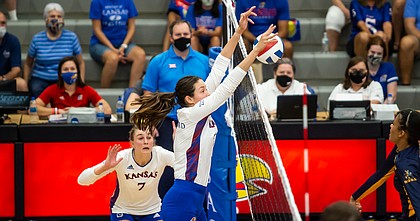 Sources close to the Kansas volleyball program confirmed to the Journal-World on Friday night that reports of sophomore middle blocker Caroline Crawford's plans to transfer were accurate.
The 2020 preseason Big 12 Conference freshman of the year was a central figure in KU's program during each of the past two seasons.
Her ability as a two-way threat, both as an attacker on offense and, more importantly, as blocker at the net, was a key part of KU's run to the Sweet 16 this season.
The Jayhawks made it to the Sweet 16 for just the third time in program history, knocking off nationally ranked squads Oregon and Creighton in the first two rounds before falling to Final Four-bound Pittsburgh.
According to sources, Crawford made the decision to leave KU earlier this week. Reports have indicated that Crawford has entered the transfer portal. It is not yet known where she plans to transfer.
Kansas coach Ray Bechard was at the Final Four this week in Columbus, Ohio. When reached by the Journal-World on Saturday morning, Bechard had no comment on Crawford's departure.
During her two years at KU, Crawford started every match for the Jayhawks, earning first team all-Big 12 and all-rookie team honors in 2020 and second team all-Big 12 honors this season.
A 6-foot-3 sophomore from nearby Lansing High, Crawford also played on the USA Volleyball U20 National Training Team.
Shortly after the season ended, as well as throughout the Jayhawks' postseason run, Crawford gushed about KU's volleyball future being bright, saying after the loss to Pittsburgh that this year's run showed "that we can compete with high-level teams with what we have. And we have a lot of great athletes coming in. So I think that can contribute and add more to that."
Asked if the Jayhawks' tourney run in 2021 raised expectations for the program's future, Crawford said simply, "I would say so, yeah."
KU has three other middle blockers on its current roster, including senior Rachel Langs, who said earlier this month that she hoped to return to KU for one more season after getting a year of eligibility back from the pandemic.
The other two current Jayhawks at Crawford's position are reserves Gracie Van Driel, a junior, and sophomore Kaiti Parks. While those three figure to get the first crack at filling the void left by Crawford's departure, KU also could search for a replacement in the transfer portal.