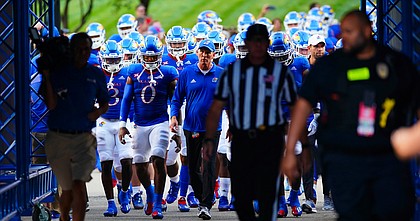 Whether it will become a new Kansas football tradition remains to be seen, but for the second straight season the Jayhawks will kick off their schedule with a Friday night home opener in 2022.
KU announced this week that Lance Leipold's second season as head coach will begin one day earlier than previously scheduled. Originally slated for the first Saturday in September of next year, KU's opener versus Tennessee Tech got bumped up a day, to Friday, Sept. 2.
Kickoff currently is set for 7 p.m. Television and streaming plans for the 2022 schedule have not yet been announced.

Just like they did in Leipold's debut season at KU in 2021, next fall will begin with the Jayhawks welcoming an FCS opponent to David Booth Kansas Memorial Stadium.
In 2021, the Jayhawks defeated South Dakota, 17-14, on the first Friday in September. That marked the program's first Friday opener since 1944, when the Jayhawks faced Washburn.
KU actually played on back-to-back Fridays this past season, following up the home win over South Dakota with a 49-22 road loss at Coastal Carolina.
Tennessee Tech finished 3-8 in 2021. In the Golden Eagles' lone matchup with a Power Five program, they lost 56-0 at Tennessee.
Kansas football 2022 schedule
Sept. 2 - Tennessee Tech, 7 p.m.
Sept. 10 - at West Virginia
Sept. 17 - at Houston
Sept. 24 - Duke
Oct. 1 - Iowa State
Oct. 8 - TCU
Oct. 15 - at Oklahoma
Oct. 22 - at Baylor
Nov. 5 - Oklahoma State
Nov. 12 - at Texas Tech
Nov. 19 - Texas
Nov. 26 - at Kansas State