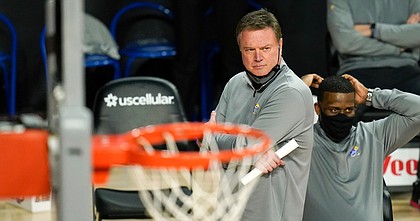 As COVID-19 cases among players in the NFL, NBA, NHL and college basketball in recent days have games being postponed and rescheduled, Kansas basketball head coach Bill Self is knocking on wood while feeling "fortunate" that the Jayhawks haven't yet encountered such issues.
"We'll probably have to deal with it at some point in time this year. I hope not," Self said on Friday, while speaking with reporters. "I'm just glad we're vaccinated and boostered up, and hopefully that'll be enough to get us through."
Self said on KU's team, nearly everyone has been vaccinated and received a booster, with just "a couple" left who need a booster.
"We're in pretty good shape there," he added.
This past March, KU ran into COVID-19 issues and had to withdraw from the Big 12 tournament. David McCormack, Tristan Enaruna and Jalen Wilson had to be away from the team as the Jayhawks prepared for the NCAA Tournament. McCormack rejoined just in time to play in the first round of March Madness, while Wilson returned on the day of KU's second-round loss to USC.
Self said he feels good about the Jayhawks now, but expressed concern about how players around the country are still turning up with positive results, leading to stoppages and cancellations.
"I think it's one of those things that you've got to deal with it, roll with it and don't try to manage the unmanageable — and don't get too frustrated when things happen," Self said.
Both Ohio State and UCLA ran into COVID-19 cases this week, leading to those programs canceling high profile matchups with Kentucky and North Carolina, respectively, in Las Vegas. Now the Wildcats and Tar Heels will square off at the CBS Sports Classic, which was supposed to be a doubleheader featuring UCLA-UNC and Ohio State-Kentucky.
At this point, there is no daily testing protocol in place for NCAA athletes and coaches like there was last year. Self said at KU, such tests are only administered when someone has symptoms.
The NBA this week implemented new COVID-19 protocols that include an increase in daily testing. Self doesn't think such measures are looming for college sports, because of the expenses involved with testing every day.
"We'll take whatever precautions the medical people say we should take," Self said. "But last (season) was such an unknown. Nobody was vaccinated last (season)."
KU senior David McCormack said players already have heard from Self and KU's staff about being safe and smart when players go their separate ways and are away from the team for the holiday break next week.
McCormack said players have been and will continue to be proactive and accountable when it comes to the pandemic.
"Being mindful of the actions you take, where you go and how you may distance yourself, just keeping in mind that you don't want to sit out unnecessarily," he said.
Self said he's not worried for college basketball as a sport right now, as teams and games become impacted by positive cases and outbreaks. But he thinks some teams might encounter "week to week" situations this season if cases keep popping up.
"If we're going to get it, we're going to get it. And you just hope it doesn't knock you out much, because hopefully the symptoms will be asymptomatic or very few at all," Self said.
"We've done everything we could to prevent it," he added.