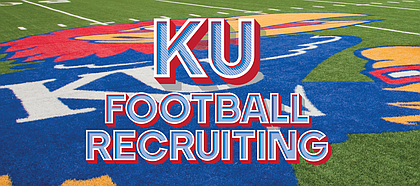 When the Kansas football staff determined the Jayhawks needed to add a high school quarterback to their 2022 recruiting class, the coaches already had Ethan Vasko in mind.
After Vasko and five other prospects signed with KU on Wednesday, head coach Lance Leipold said the staff actually began evaluating Vasko, a standout QB from Chesapeake, Virginia, while the coaches were still at Buffalo.
QBs coach Jim Zebrowski has been a fan of Vasko's skill set and approach for a while now, Leipold shared, and the assistant remained in contact with the QB even after the staff moved to KU and Vasko was committed to another program.
"He was one that, if we were going that route, that was where Jim wanted to go from the start," Leipold said of the Jayhawks signing Vasko, a 6-foot-4, 200-pound QB who helped Oscar F. Smith High win consecutive state championships.
Vasko didn't publicly commit to KU until Monday of this week, a day after decommitting from Old Dominion. Leipold said once the staff knew reserve QBs Miles Kendrick and Conrad Hawley were leaving the program via the transfer portal, they wanted to sign a prep QB, and Vasko was their target.
Vasko is rated as a two-star recruit by Rivals, while 247 Sports has him as a three-star prospect.
Leipold rattled off some of the attributes that made the young QB an appealing signee: "Tall, rangy, can run the ball as well. But he's got a strong arm. Very mature young man. Leader. And just the whole package that we thought that was going to fit into our system."
Though KU could have potentially looked for an older, more experienced QB in the transfer portal, Leipold said there was a reason they went after a young high school prospect instead.
"We're pleased with the quarterbacks— the older quarterbacks — that are here and the play of Jalon Daniels late in the season — very inspiring," Leipold said of Daniels, who started the final three games and helped KU win at Texas and keep two other contests competitive.
"And again, we saw flashes of what Jason Bean can do as well," Leipold added of the team's starting QB in the first nine games.
"So right now at this point, that's (the direction) we want to go," KU's coach said of bringing in Vasko to join the QBs.
Daniels was a sophomore for KU in 2021, but he could still play thee more years of college football, with the help of the NCAA's 2020 Covid waiver for an extra year of eligibility.
Bean, who transferred in from North Texas this past summer, was a redshirt junior in his first season with KU. He also could potentially make use of the 2020 waiver to extend his college career.
The Jayhawks also have 2021 signee Ben Easters to add to their depth next year.
"We know we have a lot of work to do yet, holistically as a program and offensively," Leipold said, while discussing the QB position and signing Vasko. "But again, we're highly encouraged and inspired by our play late in the year and what we can do with those guys."