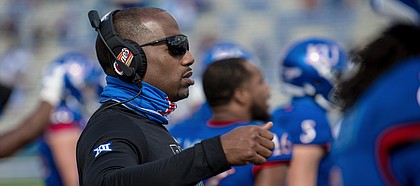 Even though Texas Tech's hiring of former Kansas football receivers coach Emmett Jones means KU will benefit from a $600,000 buyout, KU head coach Lance Leipold said the university did its best to keep Jones in Lawrence.
Leipold, while speaking with reporters Wednesday for the first time since Jones left, said his attempt to retain the receivers coach even included bringing KU Athletic Director Travis Goff and Chancellor Douglas Girod into the discussions.
KU's head coach said the administrators were "awesome" amid Leipold's efforts to talk Jones, a popular and respected assistant on the staff who also served as KU's interim head coach this past spring, into staying with the Jayhawks.
Jones' contract with KU paid him $300,000 a year. There also was a stipulation that if he was hired away while under contract, KU would be owed a $600,000 buyout. Jones left to return to a Texas Tech program where he first built his reputation as a strong recruiter and position coach.
Newly hired Tech head coach Joey McGuire named Jones the Red Raiders' passing game coordinator and receivers coach. The Lubbock Avalanche-Journal reported Tech's offer letter to Jones was for three years, with a first-year salary of $450,000 per year, plus a $25,000 pay raise in both the second and third years.
Leipold said he understood Jones' desire to leave for Texas Tech and move his family back to their home state.
"I do appreciate every way that Emmett handled his time here," Leipold said.
When Leipold was hired to take over the program, the former Buffalo coach came in just after Jones had led the program through its spring practice schedule as the interim head coach. Leipold kept Jones on his staff, as he brought in a number of his assistants from UB.
Leipold described the circumstances as unique as any he'd ever encountered.
When Leipold spoke with KU's receivers following Jones' departure, he shared his feelings on the matter, as well as his respect for Jones' decision.
"When you look at it holistically with families and not just coaching, there's coaching and career desires, but there's family and other things," Leipold said.
"Change is never easy," Leipold added of the players' perspective. "And these guys have been through a lot."
KU's head coach also thinks highly of the man he found to replace Jones as the receivers coach.
Leipold said when he found out he was in the market for a new assistant, Samuel was the first person he thought of.
"They'll find out their new coach has their best interest and their fullest development at the forefront," Leipold said.