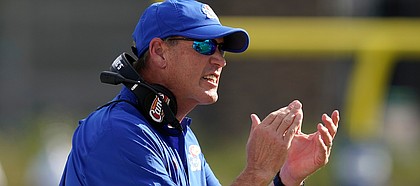 Kansas football head coach Lance Leipold was all of 10 seconds into his opening remarks during his early signing period press conference when he brought up the fact that the Jayhawks only signed six players on Wednesday.
"It's obviously not a large signing class here, but this class we're very confident is going to fit well into our program," Leipold said.
While other programs around the country will bring in 20-plus Class of 2022 high school and/or junior college players, as has been the typical approach for KU in years past, Leipold explained the math of why this cycle will look "very different" for the Jayhawks.
KU's desire to use the transfer portal to bring in new additions for the 2022 roster — the Jayhawks already have scooped five players out of the portal in the past week — is only part of the equation.
Another significant chunk of the program's 25 allotted scholarship additions for the 2022 class actually already have played for the Jayhawks.
"I think Mike Novitsky's a pretty good member of this class," Leipold said, referring to the Jayhawks' starting center. "I think (starting linebacker) Rich Miller is a big addition to this class."
Due to the attrition KU's roster experienced in the months that followed the 2020 season, Leipold explained, the staff wanted to bring in a number of transfers this past summer. To make that work, they had to count those incoming transfers toward the 2022 recruiting class, as blueshirts.
So former Buffalo players, such as Novitsky, Miller, offensive lineman Michael Ford Jr., receiver Trevor Wilson and defensive linemen Eddie Wilson and Ronald McGee, as well as former North Texas quarterback Jason Bean, all are technically part of KU's 2022 recruiting class, as well.
KU added nine players via the transfer portal over the summer, and is looking to add at least five more this winter — cornerback Kalon Gervin (Michigan State), running back Sevion Morrison (Nebraska), linebacker/safety Craig Young (Ohio State), offensive lineman Nolan Gorczyca (Buffalo) and linebacker Eriq Gilyard (Central Florida).
Add to those 14 players the six KU signed on Wednesday — defensive backs Kaleb Purdy and Mason Ellis, offensive linemen Joey Baker and James Livingston, quarterback Ethan Vasko and juco tight end Tevita Noa— and there is still roughly five scholarship spots left to fill by the time the recruiting cycle is complete.
But even that number comes with some wiggle room. The NCAA earlier this year put in place a one-time waiver on the annual signing limit and initial scholarship limits. The waiver allows schools to replace up to seven scholarship athletes who leave the school after the first term. On Wednesday, KU quarterbacks Miles Kendrick and Conrad Hawley both put their names in the portal, so those moves alone could allow Leipold and his staff to pad the 2022 recruiting class if they so choose.
The only player tied to KU's 2022 class who didn't sign on Wednesday was three-star Dallas prep defensive back Anthony Davis, who was initially recruited to KU by former assistants Emmett Jones and Chevis Jackson, who have since left the program.
Leipold credited KU's recruiting department staff for helping the program navigate all that was involved with the 2022 class.
"Things are very fluid and moving in a lot of different directions, and they still are, and they were on top of it all the time," he said.
The full Class of 2022 picture, in fact, remains "a little fluid," Leipold explained, when asked how many players KU would sign once it's all said and done.
KU's head coach said Wednesday "there could be a few more" high school players KU will add to the class in February, but the staff isn't yet completely sure how those numbers for completing the class will break down, in terms of prep and junior college prospects and transfers from the portal.
"Our main focus has to be that we make our football team better — better for the short term, better for the long term," Leipold said. "And what I mean by that is we have to create more situations of internal competition each and every day to get everybody to their highest potential and reach that."
Between the transfers and new recruits KU will add for 2022 and the ability to bring back some players who were listed as seniors on the 2021 roster thanks to the 2020 Covid waiver for an extra year of eligibility, Leipold said the Jayhawks could operate at or near the NCAA-maximum of 85 scholarship players next year.
"I think we have a chance to be there," Leipold said.
KU has not yet announced any 2021 seniors who will return as super-seniors next season.
KU's early signees
Here's a brief look at the six players KU signed on Wednesday, the first day of December's three-day early signing period.
• Ethan Vasko, QB: Vasko, who just made his commitment to KU two days earlier, was the first to sign Wednesday morning. The two-time state championship-winning QB from Chesapeake, Virginia, is listed at 6-foot-4 and 200 pounds. Rivals grades him as a two-star prospect, while 247 Sports has him as a three-star talent.
• James Livingston, OL: Livingston has a three-star rating from 247 Sports and a 2-star grade from Rivals. A 6-7, 282-pound lineman from Michigan, Livingston was named first-team all-state by the Associated Press following his senior season at Dexter High.
• Kaleb Purdy, S: Purdy is a 5-10, 170-pound defensive back from St. Peters, Missouri, who is a consensus three-star prospect. He was a four-year starter at De Smet Jesuit High, in the St. Louis metro area.
• Joey Baker, OL: A three-star O-lineman from Southlake, Texas, Baker is listed at 6-4 and 260 pounds. During his senior year at Southlake Carroll, the team finished 14-1 and reached the 6A D1 state semifinals.
• Tevita Noa, TE: A 6-4, 250-pound tight end, Noa already has played two years at the junior college level, at Snow College, in Utah. Rated a two-star prospect by Rivals and a three-star juco talent by 247 Sports, Noa will be a junior for the Jayhawks in 2022.
• Mason Ellis, S: The only in-state recruit in the 2022 class at the moment, Mulvane safety Ellis is listed at 6-2 and 188 pounds. Named first-team all-state by Sports in Kansas this year, Ellis is a two-star prospect according to Rivals, while 247 Sports has him as a three-star. Ellis, who previously had been committed to North Dakota State, is expected to grayshirt and join the roster in the spring of 2023.
KU announces incoming walk-ons
The Jayhawks also announced on Wednesday two players who will be coming in next year as preferred walk-ons.
Lawrence High kicker Grant Glasgow went 8-for-9 on field goals and 48-for-50 on extra points for the Lions this fall.
Shawnee Mission Northwest offensive lineman Kael Farkes started at center and also played defense for SMNW, and totaled 64 tackles and 12 tackles for loss as a senior.
KU football Class of 2022 early signees
(Rivals rankings)
• Kaleb Purdy — 5-10, 170; 3-star Missouri S
• Joey Baker — 6-4, 260; 3-star Texas OT
• James Livingston — 6-7, 282; 2-star Michigan OT
• Tevita Noa — 6-4, 250; 2-star Utah juco TE
• Mason Ellis — 6-2, 188; 2-star Mulvane DB
• Ethan Vasko — 6-4, 200; 2-star Virginia QB
KU football Class of 2022 commitment
• Anthony Davis — 3-star Texas CB
KU football's incoming transfer portal commitments
• Kalon Gervin, RS-jr. CB (Michigan State)
• Sevion Morrison, fr. RB (Nebraska)
• Craig Young, soph. LB/S (Ohio State)
• Nolan Gorczyca, fr. OL (Buffalo)
• Eriq Gilyard, sr. LB (Central Florida)
KU football transfers who joined last summer
• Trevor Wilson — soph. WR (Buffalo)
• Eddie Wilson — sr. DL (Buffalo)
• Jason Bean — jr. QB (North Texas)
• Rich Miller — jr. LB (Buffalo)
• Zion DeBose — sr. DE (Virginia Tech)
• Mike Novitsky — jr. C (Buffalo)
• Michael Ford Jr. — RS-fr. OL (Buffalo)
• Ronald McGee — sr. DL (Buffalo)
• Jeremy Webb — super-sr. CB (Missouri State)