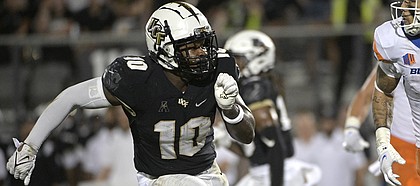 Lance Leipold's Kansas football staff continued to hit the transfer portal hard on Tuesday, as former UCF linebacker Eriq Gilyard announced his commitment to the program.
Gilyard became the fifth transfer to pledge to the Jayhawks in the past five days, leading up to Wednesday's early signing period.
Listed at 5-foot-11 and 225 pounds on the UCF roster in 2021, Gilyard was a few weeks into his senior season when he left the Knights.
He played in four games and started one. Because he only participated in four, he will be able to use 2021 as his redshirt season. Additionally, Gilyard can use the NCAA's 2020 Covid waiver for an extra year of eligibility and join the Jayhawks with two years remaining, even though he was a senior entering the season at UCF.
In what would be his final year with the Knights, Gilyard made 23 total tackles. He had 11 of those in his one start, versus Navy, and made seven tackles and 0.5 tackle for loss against Louisville.
His time at UCF began in 2018, when he appeared in 11 games as a true freshman. He will arrive at KU having already appeared in 37 college football games, with 24 career starts.
For his career, Gilyard has 197 total tackles, 19 tackles for loss, two interceptions, three forced fumbles and two fumble recoveries.
In early December, Gilyard visited KU to check out the program and meet the Jayhawks' coaches and players in person. KU's standout safety, Kenny Logan Jr., hosted Gilyard on his visit.
Gilyard told Jon Kirby of Jayhawk Slant Leipold and the KU coaches have a good reputation, and he enjoyed getting to know them better.
"It is not hard to see why Coach Leipold wins by the things he does," Gilyard said. "And his way works. I believe everybody kind of follows that, just him being a great leader set in that role for everybody. Along with the assistant coaches, they are all really cohesive."
A four-star high school prospect in Jacksonville, in the Class of 2018, Gilyard was a sought after defender due to his standout play at Trinity Christian. Before signing with UCF, he also had offers from Clemson, Michigan, LSU and many other programs.
Leipold and his staff already have landed five commitments from players in the portal this offseason, and the way they're approaching their 2022 recruiting class, looking to add more experienced players, there's likely more to come before the class if finalized in February.
KU football's incoming transfer portal commitments
• Kalon Gervin, RS-jr. CB (Michigan State)
• Sevion Morrison, fr. RB (Nebraska)
• Craig Young, soph. LB/S (Ohio State)
• Nolan Gorczyca, fr. OL (Buffalo)
• Eriq Gilyard, sr. LB (Central Florida)