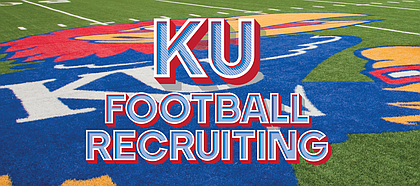 Kansas football head coach Lance Leipold and his staff found their prep quarterback for the 2022 recruiting class when Ethan Vasko announced Monday evening his commitment to the Jayhawks.
A 6-foot-3, 205-pound QB from Chesapeake, Virginia, Vasko just this past weekend helped Oscar Smith High win its second consecutive Class 6 state title.
Rivals currently rates Vasko as a two-star prospect, while 247 Sports' composite rating grades Vasko as a three-star talent.
His pledge to KU came a day after Vasko announced he was decommitting from Old Dominion. Vasko also previously picked up scholarship offers from Charlotte, Connecticut, South Florida and Virginia Tech, among others.
One of those offers was from Buffalo, and it came when Jim Zebrowski, now the QBs coach at KU, was still at UB with Leipold.
Vasko told Jon Kirby of Jayhawk Slant that Zebrowski, who has been recruiting him to KU, likes that the young QB doesn't play tight.
"I have a loose throwing motion and can make plays on my feet as well," Vasko said. "He likes that I can get out of the pocket and make any throw on the field. He said he likes my character, how I lead on and off the field, and the way I can connect with players."
The QB's announcement made it eight recruits between the prep and juco ranks who are currently committed to KU's next class. It's expected Leipold and his staff will use the transfer portal to fortify much of the 2022 class, and they've already landed transfers from Michigan State, Nebraska, Ohio State and Buffalo.
KU's recruits have the option of making their commitments official when the early singing period begins on Wednesday. National Signing Day for the 2022 recruiting class will be Feb. 2.
KU football Class of 2022 commitments
(Rivals rankings)
• Anthony Davis — 3-star Texas CB
• Kaleb Purdy — 3-star Missouri S
• Joey Baker — 3-star Texas OT
• Mike Smith — 3-star Mississippi juco LB
• James Livingston — 2-star Michigan OT
• Tevita Noa — 2-star Utah juco TE
• Mason Ellis — 2-star Mulvane DB
• Ethan Vasko — 2-star Virginia QB