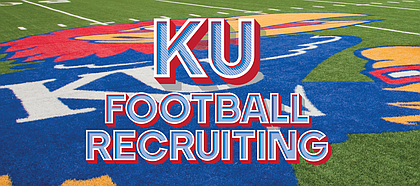 The Kansas football program's 2022 recruiting class now has its first in-state high school prospect.
A 6-foot-2, 185-pound senior defensive back from Mulvane, Mason Ellis gave head coach Lance Leipold and the KU staff his verbal commitment on Sunday.
Rated a two-star prospect by Rivals, Ellis previously had been committed to North Dakota State. He made three trips to KU in recent months, and was on campus this past weekend, when he decided to flip to KU.
With his pledge, Ellis became the first player currently tied to KU's upcoming recruiting class who is from the Sunflower State.
The other high school athletes committed to KU are from Texas, Missouri and Michigan. The Jayhawks also have commitments from junior college prospects in Utah and Mississippi.
A former KU recruit, three-star Alabama athlete Nikki Taylor, who was recruited by former KU cornerbacks coach Chevis Jackson, is no longer a part of the Jayhawks' 2022 class.
Growing up in Kansas, Ellis told Jon Kirby of Jayhawk Slant he's long envisioned himself suiting up for KU.
"It's always been my dream since I was a little kid to play in the Big 12 play for Kansas," Ellis said. "I went to Kansas football games when I was little, playing on the hill and all that. I mean, it's just surreal."
Ellis told Jayhawk Slant that Leipold gave him a grayshirt offer. That plan would mean Ellis won't enroll at KU and be on scholarship in 2022. Rather, he would officially join the program in the spring semester of 2023. In recent years, former KU staffs have taken that approach with players such as Torry Locklin and Amauri Pesek-Hickson.
With Ellis now in the mix, KU currently has seven commitments between its prep and juco recruits for the 2022 class. It's expected Leipold and his staff will use the transfer portal to fortify much of its 2022 class, and they've already landed a couple of transfers in former Michigan State cornerback Kalon Gervin and former Nebraska running back Sevion Morrison.
The prospects who already are on board have the option of making their commitments to KU official when the early singing period begins on Wednesday. National Signing Day for the 2022 recruiting class will be Feb. 2.
All verbal commitments, of course, are nonbinding.
KU football Class of 2022 commitments
(Rivals rankings)
• Anthony Davis — 3-star Texas CB
• Kaleb Purdy — 3-star Missouri S
• Joey Baker — 3-star Texas OT
• Mike Smith — 3-star Mississippi juco LB
• James Livingston — 2-star Michigan OT
• Tevita Noa — 2-star Utah juco TE
• Mason Ellis — 2-star Mulvane DB