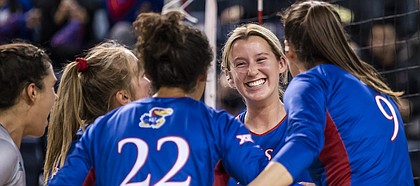 Still feeling the sting of a season-ending loss at Pitt in the NCAA Tournament's Sweet 16, members of the Kansas volleyball team at least exited the postseason encouraged about the program's future.
The Jayhawks, during their first tournament appearance since 2016, advanced to the third round for just the third time in program history. And because few expected KU to make that type of run this year, and the Jayhawks still upset Oregon and Creighton in the NCAA Tournament, head coach Ray Bechard and KU players alike think this could mark the beginning of a strong stretch for the program.
"Certainly there's a few kids we'll miss," Bechard said, referring to the roster changes that come with the offseason. "But there's so much to build on, and we're excited about what that looks like in the future."
Some of KU's key players this year proved to be underclassmen, such as sophomore Caroline Crawford, Big 12 freshman of the year Caroline Bien and freshman setter Camryn Turner.
KU will lose some players, including super-senior outside hitter Jenny Mosser, as well as Lacey Angello, Audri Suter and Sara Nielsen.
But there are several other key players who will be able to come back and contribute again in 2022, including Crawford, Bien, Turner, junior Kennedy Farris and freshman London Davis. Senior Rachel Langs said this past week she plans to use the NCAA's 2020 Covid waiver for an extra year of eligibility and return. Senior Anezka Szabo could do the same.
The Jayhawks also will bring in a 2022 signing class that Bechard and the players are high on, which includes Katie Dalton (Parker, Colorado), Brynn Kirsch (Sioux Falls, South Dakota), Molly McCarthy (Rancho Mirage, California) and Rhian Swanson (McPherson).
Considering KU exceeded expectations in 2021, Crawford thinks the program's resurgence is ahead of schedule.
"No one really thought we were going to be where we are now. And so I think that shows that we can compete with high level teams with what we have," Crawford said. "And we have a lot of great athletes coming in. So I think that can contribute and add more to that."
Bechard, who coached KU to a Final Four in 2015, thinks the team's latest postseason success solidifies what he and his staff are trying to build. He said because the Jayhawks (18-12) got to experience a string of victories late in the season, when they won six matches in a row and became one of just two teams from outside the top 16 seeds to make it to the tournament's second weekend, it reenforces the training the Jayhawks will put in during the coming offseason, when they're in the gym almost every day.
"These are really good kids that work hard, do the right thing, do it the right way," Bechard said. "And it's really, really rewarding to work with a group that's going to go about their business that way."
The most impactful player from this season who saw her career come to an end this week, Mosser said she was proud of how the team overcame obstacles and a rough patch during the regular season. And Mosser said there already is anticipation about 2022.
"I mean, I won't be here, but I know all the younger kids are really excited. It kind of gives them a taste of what it's like," Mosser said of their trip to the Sweet 16.
And does the team's trip to the third round of the NCAA Tournament raise expectations for what's to come?
Said Crawford: "I would say so, yeah."