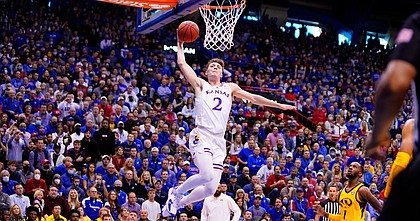 Kansas junior Christian Braun's final stat line in Saturday's 102-65 beatdown of Missouri at Allen Fieldhouse was far from special.
But his impact was immeasurable.
And the fire, passion, intensity and even venom that he brought to the floor in the game's opening minutes was, by itself, enough to ensure that the eighth-ranked Jayhawks would wind up in the win column in the first game against their bitter border rivals since 2012.
The fact that Saturday's win was the largest margin of victory in the series since a 96-49 win in 1977 — and third largest in the history of the series — was a mere bonus.
Photo Gallery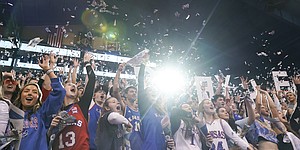 Kansas basketball v. Missouri
View a gallery of images from Saturday's Border War between the Kansas Jayhawks and Missouri Tigers at Allen Fieldhouse.
"I told the guys that the first five minutes I was kind of tired," Braun said after scoring 13 points and grabbing four rebounds, with three assists and three steals in 28 minutes. "I think I tired myself out. But that was the most fun I've had in my life. I think I was born for that."
The first indication that Braun was in for a big day came long before either team took the floor for Saturday's 2:15 p.m. tipoff.
After arriving at Allen Fieldhouse at 12:33 p.m., Braun made a pit stop on his way to the KU locker room. Instead of heading in to suit up, Braun walked through the players tunnel to the floor and took a peek at the crowd. The student sections on both ends were basically full, and Braun could barely contain his excitement.
"Woo hoo hoo," he said with a smile plastered on his face.
From there, he walked into the KU locker room clapping loudly enough for the students in the stands to hear.
That was not the last time Braun would be heard from on Saturday.
His start unleashed a decade's worth of trash talk, passion, fire and energy and instantly set the tone for the kind of day it would be for both teams.
Related document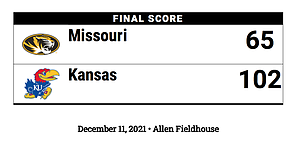 Box score: KU 102, Missouri 65 ( .PDF )
Braun scored the game's first basket on a wide-open 3-pointer from the wing and followed it up with an icy glare toward the Missouri bench.
"There was nothing behind that towards them," he said. "I have a lot of respect for their coaches and their players. Obviously, I was amped up."
A couple minutes after the 3-pointer, Braun scored on an old-fashioned three-point play and, while sliding across the floor along the baseline after being fouled, emphatically signaled that the basket was good while yelling God knows what to anyone who would listen.
Less than a minute later, he again scored on a drive to the rim. This one elicited the response of "you can't guard me" or something along those lines.
After his fourth early-game highlight — a lob to David McCormack for a vicious dunk — he could be seen laughing while running back on defense.
"I just have a chip on my shoulder," Braun said, noting that showing the world he could play with grit and passion was a motivating factor in this one. "I think I have passion, I've always played with that and this game means a lot to a lot of people so I wanted to come out and show it."
In doing so, Braun helped the Jayhawks (8-1) race out to leads of 13-5, 21-9 and 49-27 at halftime.
He sat on the bench for just one minute in the first half, and Kansas coach Bill Self said even that may have been too much, as Saturday's game was one of those that nobody wanted to sub out of any more than they had to.
"He was terrific," Self said of Braun's impact. "I think this meant a little bit more to him, and you could probably tell by his energy and how vocal he was. But I loved it."
At the 6:45 mark of the first half, Braun's block of a shot at the rim by Missouri's Yaya Keita was greeted with a, "Come on, man," stare.
Two minutes later, like a 737 lifting off the runway, Braun threw down a vicious, one-handed slam that put Kansas up 38-25 and sparked a 13-2 run to close the half.
On the very next possession, after grabbing a defensive rebound, Braun threaded a pass to Dajuan Harris Jr. in transition for a layup that put the Jayhawks up 40-25 and forced the Tigers to call a timeout.
After the timeout was awarded, Braun stood at mid-court yelling, "That's what we do," and urging the crowd to get louder.
In the second half, after a 12-2 Kansas run that featured buckets on seven consecutive possessions turned the game into a lopsided affair, Braun again walked toward the KU student section, yelling, "It's a blowout. It's a blowout."
"I wouldn't say we had that last year," said senior guard Ochai Agbaji, who scored a game-high 21 points largely on the strength of 5-of-7 shooting from 3-point range. "We didn't have that swagger that we carry ourselves with now."
Added Braun: "This guy (Agbaji) backs a lot of it up. We've got good guys on our team. We're really confident in what we can do, and it brings a spark to our team."
Braun's intensity was so far off the charts throughout Saturday's game that it actually seemed kind of strange when he scored a bucket midway through the second half and didn't react.
While that energy was probably enough to give Kansas the separation it needed to win, a strong showing by Harris ensured that the game was never close.
It was clear early that Missouri coach Cuonzo Martin's game plan was to try to keep KU on the perimeter and, more specifically, to try to funnel as many shots as possible Harris' way.
The sophomore guard who grew up in Columbia, Missouri, responded to the challenge by knocking in five of six from the floor, including three of four from 3-point range — his first 3-point makes of the season.
"The key to the game was they were going to play five against four and they weren't going to guard Juan," Self said. "And I saw Cuonzo just laughing when Juan made his first one because that's what they wanted and he made them pay."
Kansas outperformed Mizzou in just about every important statistical category in the first installment of the renewal of this rivalry.
KU out-shot the Tigers 56% to 44%, including a 52%-31% edge from 3-point range, where Kansas made 14 of 27.
The Jayhawks out-rebounded Missouri (36-26), committed fewer turnovers (20-11) and outscored the Tigers 23-8 in fast-break points, 20-12 in second-chance points and 34-29 in bench points.
While all of that, plus a little fire, added up to an epic beatdown, the bottom line for the Jayhawks remained the same on Saturday as it has been throughout this season so far.
"It (was) a chance for us to get better and put on a show," Agbaji said after the victory.
Added Braun: "We're improving every game, I think. It was a good win and we're going to keep improving."
Next up, Kansas will play host to Stephen F. Austin on Dec. 18 at Allen Fieldhouse.