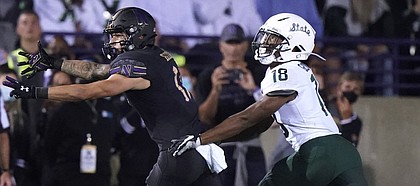 A former starting cornerback at Michigan State, Kalon Gervin's venture into the transfer portal has landed him at the University of Kansas.
Just a little more than six weeks ago, Gervin planned to transfer to Wisconsin and committed to play for the Badgers in 2022. However, Gervin announced Friday he has flipped on that decision, and committed to KU.
"Change of plans," Gervin posted to Twitter, along with photos of him wearing a blue, No. 8 KU uniform.
Gervin left the Spartans early on this past season, entering the portal in late September.
Listed at 5-foot-11 and 190 pounds on MSU's roster as a redshirt junior in 2021, Gervin played in MSU's first four games. He started twice and made 14 total tackles.
The Detroit Free Press reported Gervin's departure coincided with a cutback in his playing time.
Gervin told Jon Kirby of Jayhawk Slant that he plans to enroll at KU in January, which would allow him to go through offseason workouts and spring practices.
"I'm excited to go to play in the Big 12 and play corner," Gervin said. "Put my head in the pile and put my work on display. I think I bring that lockdown mentality, speed, versatility and leadership."
A Detroit high school standout at Cass Technical in the Class of 2018, Gervin was rated as a four-star prospect by Rivals, which ranked him as the No. 1 overall senior in the state of Michigan that year.
Coming out of high school, Gervin had close to 40 scholarship offers, including from Oklahoma, Oregon, Notre Dame, Penn State, Florida and Auburn.
Upon arriving at Michigan State for the 2018 season, he played in three games so he could get some experience while also using it as his redshirt season.
As a redshirt freshman in 2019, Gervin played in 10 games and made one start. His role expanded as a redshirt sophomore in 2020, when he made six starts in an abbreviated, seven-game schedule. That year he had 22 total tackles and four pass breakups.
Even though Gervin already has participated in four college football seasons, with one of those being a redshirt year and all players able to use the NCAA's 2020 waiver for an extra year of eligibility, the Jayhawks could potentially have him play two more seasons.
KU is only losing one player from its 2021 cornerback rotation to graduation: graduate transfer Jeremy Webb.
The Jayhawks' young cornerback contributors this past year included freshmen Jacobee Bryant and Cam'Ron Dabney, redshirt freshman Ra'Mello Dotson and sophomore Duece Mayberry.