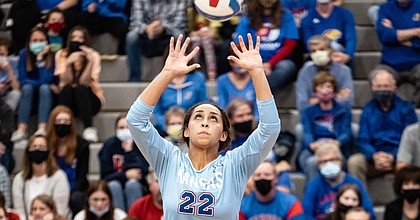 In late August, following the Kansas volleyball program's season-opening loss to Loyola Marymount at Purdue, Kansas coach Ray Bechard ran into setter Camryn Turner and her parents outside of the team hotel and had a brief conversation that proved to be prophetic.
Turner, a freshman from Topeka, did not play a single point during the first college volleyball match of the season, and the family, though understanding, was a little disappointed.
After exchanging hellos, Bechard could sense that vibe. And he immediately cut through it with some words that wound up making him look pretty good.
"I just walked up on them and pointed to her and said, 'She's going to be in the equation before it's all said and done this year,'" Bechard said Tuesday before the Jayhawks departure for Pittsburgh, where they will play in the NCAA Tournament's Sweet 16 at noon on Thursday. "Dad and mom kind of looked at me funny, but I said, 'That's for real.' And as we got deeper into her getting experience and her doing what she's doing, it's happened."
Today, Turner is one of the leaders of the red-hot Jayhawks — by virtue of both her position and her passion — and she has played a massive role in the program advancing to the Sweet 16 for just the third time in school history.
Early in the season, there were more moments like that LMU match. Turner had to stay patient while she adjusted to college volleyball and she kept working to earn the trust of her teammates.
It didn't take long. In fact, many of her teammates will tell you that they trusted Turner long before she realized that she had won them over.
Sophomore middle blocker Caroline Crawford — another native Kansan — grew up playing against Turner in club settings. And she knew exactly what KU was getting when Bechard and company signed Turner.
"To me, it's not surprising because she's crazy athletic and that's just who she is," Crawford said on Tuesday. "Once she jumps into a role, she owns it."
When asked this week if she thought things would go this well, this fast, in her college career, Turner laughed and said matter-of-factly, "Not at all."
"Confidence was a big thing coming in," she said. "I wanted to make an impact and I wanted them to trust me, and it was definitely a me thing. I could tell that they trusted me, but it was just like (I had to convince myself) I can do this."
Freshman outside hitter Caroline Bien is Turner's roommate. And she said the chemistry the two had from the moment they arrived on campus has played a huge role in their poise and production on the court.
"Developing that relationship on the court has just been the best," Bien said. "Her role is such a leadership role."
It took Turner a few weeks to fully adjust to regular playing time. But after being sprinkled into the lineup in KU's two-setter system with sophomore Elise McGhie, Turner became the go-to option as the Jayhawks shifted more to a one-setter approach.
Bechard said he still likes both options because of the lineup flexibility it provides Kansas elsewhere on the court. But going primarily with Turner down the stretch has been a big part of the run this team is currently experiencing.
"I loved the kid when I was recruiting her," Bechard said of the Seaman High graduate. "She flew under the radar. I think Washburn was her only other option. But I convinced the staff that this kid could be pretty special. And, as I see her play, she morphs into whatever situation she's in. The higher the level, she just seems to elevate to that level."
That approach has allowed the 5-foot-8 Turner to remain calm in some of the biggest moments of the season. And that poise and ability to lead with an attacking personality gave Bechard the ability to put more on her plate as the season progressed.
"The 5-1 system got us more consistent and (created) better opportunity for rhythm offensively and consistency," Bechard said of operating mostly with a single setter.
Beyond that, Bechard's recent research revealed that no team that primarily utilized a two-setter system has ever won a national championship.
That's the goal for all 16 remaining teams in this year's NCAA Tournament. But the Jayhawks, behind the fiery and fearless lead of their setter, are focusing more on enjoying each point and less on the big picture.
"Sometimes I look at it and I'm like, 'We're playing at Kansas. This is crazy,'" Turner said. "But it doesn't feel that big because everyone on the court is so easy-going and has your back and it's just such a chill environment."
Kansas and No. 3 Pittsburgh will square off at noon on ESPN+, with the winner advancing to the elite eight on Saturday.