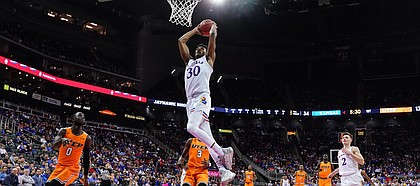 Kansas City, Mo. — No matter what goes right, what goes wrong or how any of it looks, the eighth-ranked Kansas basketball program seems to know it's in good hands when Ochai Agbaji and Christian Braun are on the floor.
That was the case again on Tuesday night at T-Mobile Center, where Agbaji and Braun combined to score 43 points on 18 of 25 shooting and Kansas bludgeoned visiting UTEP 78-52.
"Obviously, those two carried us tonight," Kansas coach Bill Self said after the Jayhawks' seventh win of the season.
The two veterans who have emerged early as what Self calls this team's "go-to scorers," routinely have been the first Jayhawks to score and often have found ways to help each other do just that.
Tuesday's first few minutes were filled with examples of both, as Agbaji and Braun combined to score 14 of the Jayhawks' first 18 points, using everything in their bag of tricks to make it happen.
Photo Gallery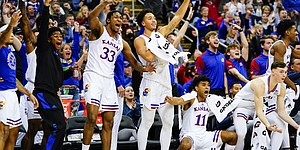 Kansas basketball v. UTEP
View a gallery of images from Tuesday night's game between the Jayhawks and Miners at T-Mobile Center in Kansas City.
Defense led to offense. Both players played above the rim. And the two Jayhawks and two of the top three scorers in the Big 12 Conference thus far helped Kansas (7-1) race out to an 18-5 lead that quickly erased whatever hopes UTEP had of competing in this one.
Agbaji's 23 points gave him the upper-hand in the scoring column, knocking in one more 3-pointer and two more free throws than Braun. But he made sure to point out after the victory that there is no competition between them to outdo each other, only a burning desire to do everything possible to outdo the opponent.
"I think it's a really hard guard for other teams," Agbaji said. "Having one guy that can get 20 and another guy that can get 22, the wing spot (has to be) your main focus."
On Tuesday, the two did it together, almost matching one another, shot for shot, as the game went along. But Braun was more than happy to give most of the credit for that to Agbaji, who topped the 20-point mark for the sixth time in eight games this season.
"That's Ochai," Braun said. "We don't need to be surprised anymore or think it's some little run he's on. That's Ochai. That's who he is. That's what he worked to be and I'm happy to see it."
It's clear that Abgaji's success helps the team's bottom line. But Braun said the senior guard's attacking mentality and ability to force defenses to key on him has created chances for others, as well.
"I've just kind of been feeding off of him," Braun said. "He's done a really good job of opening things up for others to go score."
To this point, Braun has done the best job of consistently taking advantage of that.
Related document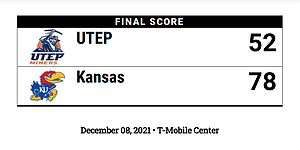 Box score: KU 78, UTEP 52 ( .PDF )
"He's following my lead in the sense of all the work he put in in the offseason," Agbaji said of Braun's emergence. "I saw it; I was there working out with him from time to time, and we're just trusting that and going off each other's confidence."
Self's trust in his top two players — and having at least one of them in the game at seemingly all times — runs so deep that he subbed Agbaji in for Braun with just over six minutes to play and Kansas leading by 21 points.
"Those two are playing at a pretty high level," Self said.
But he also noted that both players still turned down a few too many shots, cut into KU's ball movement and didn't get to the free throw line enough.
"We're a fun team to watch when the ball moves," Self said. "And the ball was sticking tonight. It was disappointing to me."
Beyond the specific impact of Agbaji and Braun on Tuesday, it was hard to tell which element was more responsible for KU's fast start, the offense or the defense.
Kansas held UTEP without a point for the first 6:38 of Tuesday's game, forcing seven misses before the Miners' first make and coercing UTEP into five turnovers, three of which came via steals by Dajuan Harris Jr. Harris later tied his career-high with four steals.
Offensively, the Jayhawks raced out to leads of 10-0 and 18-5 on the strength of 67% shooting from the floor. Braun (8), Agbaji (6) and David McCormack (4) accounted for KU's first 18 points, with eight of them coming off of dunks.
Self and several of his players seemed to think it was the defense that led the way.
"Our offense tonight was poor, without question," said Self of his team, which turned it over 16 times. "But it looked like we played good offense because we scored so many points off our defense the first half."
If there was a single play that summed up Tuesday's game, it came midway through the first half, after the Jayhawks threw the ball away on offense trying to find a cutter to the rim.
UTEP's Jamal Bienemy came away with the steal and started up the court. But before he could get out of the starting blocks, he collided with teammate Jamari Sibley and lost the ball. It bounced right into the waiting hands of Jalen Wilson, who quickly flipped it to a wide-open Agbaji under the rim for an uncontested, two-handed slam.
That put Kansas up 26-9 and the Jayhawks led 42-21 at halftime.
Things went so well for Kansas in the first 15 minutes that Agbaji's dunk at the 5:28 mark moved him to 13 points for the night — the same total that UTEP's entire team had at that point.
The Jayhawks leveled off a little late in the half, but they still held UTEP to 30% shooting from the floor, compared to 59% for Kansas.
Had it not been for a sloppy final five minutes, which saw their first-half turnover total balloon from five to 10, the Jayhawks might have been up by close to 30 at the break.
All of it was a necessary step — and a difficult one, at that — to get to the next game on the Jayhawks' schedule — 2:15 p.m. Saturday at home against Missouri.
That game will be the first meeting between the two bitter rivals since 2012, and the Jayhawks talked about trying not to look past Tuesday's game while anticipating the return of the series with their border rivals.
"This is the best game on our schedule," Self said of KU's upcoming clash with Mizzou. "I didn't think (UTEP) was a trap game, but Monday morning there was well over 100 camping groups (at Allen Fieldhouse) already, which means over 2,000 students are already waiting there since Monday morning to go to the game, and that number will go to 150-200. We were telling them how important this game was and they're thinking about what's getting ready to happen on Saturday.
"I think they handled it OK. But they're excited for Saturday."