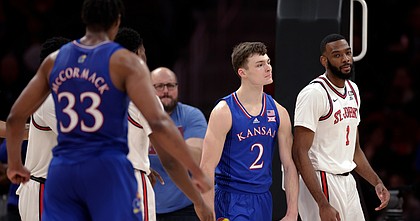 Elmont, N.Y. — Kansas guard Christian Braun dropped a career-high 31 points in Friday's 95-75 win over St. John's, and the extra mustard that came with it inspired some of the Jayhawks to revert to a name that was often used to describe Braun as a freshman.
Senior guard Ochai Agbaji credited walk-on Chris Teahan with the nickname, but he stopped short of sharing it, saying simply that he couldn't say the word.
"Freshman-year Christian, when he was just that little… I can't say the word," Agbaji said after the victory. "He was just that man. He thought he was that guy, had the confidence with him and everyone followed that, too."
Asked what the word started with, Agbaji smiled and said, "B.A. Keep it simple."
Said Braun of his role as the resident bully during Friday's win: "Their crowd was really good tonight, and to quiet them down when they're making all that noise feels really good."
There was nothing simple about Braun's big night on Friday. He opened with nine points in the first eight minutes of the first half and he played a monster role in KU's knockout punch, which came after St. John's (5-2) had trimmed KU's 13-point halftime lead all the way down to three (64-61) midway through the second half.
For the fourth game in a row, Braun showed tenacity in the half-court and transition, looking to attack the defense and get to the paint whenever possible.
That, he said, was by design and the result of his offseason self-evaluation.
"Just working on being aggressive," he said. "Coming in (to college), I wasn't just a spot-up shooter and that's kind of what I turned into. But I know that if I'm aggressive that stuff will open up."
Braun made 10 of 16 shots on Friday night and nine of 10 free throws. Four of those charity shots came after back-to-back technical were called on St. John's coach Mike Anderson and guard Posh Alexander when the game came unraveled.
He also added eight rebounds, four assists and three steals.
"CB's climbing up some draft boards," KU coach Bill Self said after the victory. "He's a good player, he does a lot of everything and he's playing the best he's played since he's been here."
Related document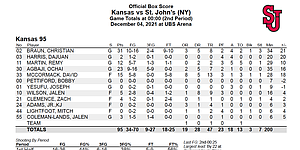 Whether it was a clutch 3-pointer to maintain KU's cushion or a vicious dunk to quiet the rowdy St. John's crowd, Braun's fire and passion was as important for the Jayhawks (6-1) as the points he put on the board.
"I think any time you show personality it's important," Self said. "Energy's contagious. And I think CB's much better when he's showing how he's enjoying being out there."
After struggling to close out games in the second half throughout the season so far, it appeared as if the Jayhawks were headed down that path again on Friday.
A 13-point lead, which — stop me if you've heard this one — could have been more, quickly dropped to eight when SJU scored the first five points of the second half.
Self immediately called what he described as "a pissed off timeout" and the Jayhawks regained their footing.
One of the big catalysts to KU's strong first half — second-chance points — showed up early in the second to help slow St. John's surge.
Senior forward David McCormack's sixth offensive rebound of the night and subsequent assist to Braun for an easy layup stopped the Red Storm run and put KU back up by 10.
The two teams then traded baskets for the next few minutes as the game moved into the final stretch still in doubt.
After scoring just four points in 17 first-half minutes, Champagnie hit four 3-pointers in a 4-minute span early in the second to pull St. John's closer.
"He was really, really good," Self said of Champagnie, who finished with 24 points on six 3-point makes, one better than Agbaji's 5-of-9 3-point night. "I don't think we guarded him very well, but you've still got to make those shots and they weren't wide open either."
Champagnie made five second-half 3-point shots before missing, which helped St. John's pull within three at 64-61. But KU responded to the Red Storm's push — and the fired-up crowd — with a 11-0 run to push the lead back to its halftime margin.
Agbaji and Braun had five apiece during the run, which later grew to 21-3, and the first ever basketball game played inside the brand-new New York Islanders hockey arena was effectively put on ice.
McCormack and Agbaji both said the Jayhawks understand that basketball can be a game of runs. But it was their goal on Friday night to make sure St. John's did not gain confidence from that run.
"(It was what we learned) from the last two games," Agbaji said. "Today we knew how to handle that, how to keep playing our game and how to focus on defense more than anything."
Added McCormack: "We just kind of rallied together and said, 'It's time to cut their water off and time to get more stops defensively and worry about offense less.'"
That's the message Self always preaches and, for the most part, he was happy with what he saw on Friday night.
"We did much better when they cut it to three," he said. "Of course, we didn't guard anybody until they cut it to three, but it was a good way to close the game."
The Jayhawks' defense was stellar down the stretch and led to KU outscoring St. John's 31-14 to close out the game.
Kansas out-shot, out-rebounded and out-willed St. John's in this one, playing what Self said was a pretty good 30 minutes of basketball.
But it was Braun's swagger, McCormack's rebounding prowess (he tied a career-high with 13 while scoring 15 points) and KU's experience that led the Jayhawks to an important road victory.
"These (non-conference) games mean a lot," Agbaji said. "Kind of practicing for conference road games, when we have road stretches like that and winning on the road and responding to crowds like this."
While those things were key, Braun said the bigger picture was the most important part of the puzzle.
"We're just trying to get a win and get better every game," he said. "We've put a lot of emphasis on playing better defense and we've got to finish and start halves better."
The Jayhawks will return to action on Tuesday when they play host to UTEP at T-Mobile Center in Kansas City, Mo., before returning to Allen Fieldhouse to take on Missouri on Saturday, Dec. 11.