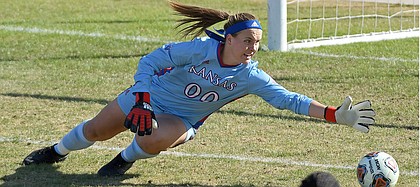 The University of Kansas soccer program has a new shutout queen.
Sarah Peters, a senior from Lee's Summit, Mo., who has started in goal for the Jayhawks for the past three seasons, picked up her fourth shutout of the 2021 season on Sunday, moving her into first place on KU's career list with 29.
Her effort, which featured a season-high five saves, helped lead KU to its second consecutive victory, a 1-0 win over Iowa at Rock Chalk Park.
Peters passed former KU goalkeeper Meghan Miller, who recorded 28 shutouts from 2001-04.
The Jayhawks are now 2-1-1 on the season and next will play at Memphis at 7 p.m. on Thursday.
KU's latest victory came courtesy of freshman Raena Childers' first career goal. The younger sister of KU senior Rylan Childers hit a right-footed shot on a quick turn and touch inside the box three minutes into overtime to give the Jayhawks the victory.
"I just touched it, turned and shot; it was a great way to finish," Childers said after the match.
Childers' goal came off of an assist from fellow-freshman Maggie Gagne, who is also her roommate.
"Us being close outside of soccer helps build a connection on the field," Childers said. "I looked up and we made eye contact, I said 'Mags, Mags, Mags' and she played it to me and I was able to touch, turn and shoot. I'm glad we were able to get it done."
Iowa out-shot KU 9-3 in the game's first half, but the Jayhawks turned that around in the second, out-shooting the Hawkeyes (3-1-0) 9-2 in the second half. That helped KU build some momentum heading into overtime.
"I thought in the second half we were all over them," KU coach Mark Francis said. "The big difference was our depth. We made nine changes and they made four and I think that really impacted the match later on."