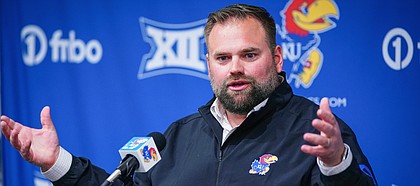 New Kansas football offensive coordinator Andy Kotelnicki made sure during his first preseason press conference to keep an air of mystery surrounding the specifics of what the Jayhawks have been up to at camp so far.
But the longtime Lance Leipold assistant didn't mind speaking more broadly about some of his philosophies, which included an explanation of why he calls the offense a "six-headed dragon."
"You have your core plays, which we won't open up the whole playbook here for you, for the opponents, but you say, 'Here are the six things that we're going to master,'" Kotelnicki explained on Sunday, following KU's fourth practice.
"We're going to be able to do (these six things) on any personnel grouping, any formation, any kind of motion, any kind of tempo," he added. "We're going to do these six things and we're just going to keep doing them over and over and over again."
Because Kotelnicki and the rest of the staff members who followed Leipold from Buffalo weren't hired until after the Jayhawks completed their spring practice schedule, the six heads on the dragon have to be more basic in the opening days of camp than the former UB and Wisconsin-Whitewater O.C. is used to.
Accordingly, the goal this August isn't to introduce the players to every single play Kotelnicki has under his visor.
"I think this happens every camp or every year when you talk about what you have to install," he said. "One of the hardest things to do, especially from a coordinator standpoint, is to hypothesize and project what you're going to need Week 1, what you're going to need Week 5, what you're going to need Week 10 and so on."
Instead of trying to predict the future, Kotelnicki said he and KU's offensive assistant coaches want to make sure the plays being taught during camp are executable for the team's players and their strengths.
Thorough repetitions right now with the offense's core set of plays, he added, should allow the Jayhawks to be flexible schematically going forward, as certain packages grow this season, based on the personnel.
"Here's the base offense," Kotelnicki said of what he had presented to the players through four practices. "We know we need that. We know this is going to be good against all of these defensive schemes, it's going to cover all the bases. Let's get good at it."
For the players, Kotelnicki knows all of this repetition and consistency may feel like "the enemy," but he reminded them on Saturday that it is actually exactly what they need at this stage.
Immediately following the team's fourth practice on Sunday, junior tight end Mason Fairchild said the offensive players understand the importance of the installation process.
"Coach K likes to talk about stacking Legos," Fairchild said of the approach. "I think it's been great so far. Obviously a couple days in we haven't gotten to see what (the finished product) really looks like. But just from what I've seen the past couple days it's been really good. Just learning all of that, getting all the little clicks down."
For Kotelnicki, determining which play calls need to be introduced now and which can wait is part of his big picture approach, too.
Heading into his 16th season as an offensive coordinator, Kotelnicki said he asks himself the same types of questions each year at about this time.
"Do we really need this now? Or is this something we can wait 'til maybe the bye week to install or after Week 2 to install?"
Through the years, he said he's learned how to best whittle the playbook down and identify the exact plays that he thinks his team will need in order to win, regardless of the opponent on a given week.
Part of the preparation this summer for Kotelnicki and other members of the KU staff included looking at Big 12 defenses and studying what the Jayhawks are likely to see from a schematic standpoint.
"But what it really comes down to is it's really not going to be the scheme," he added. "It's going to be how we do those things. And that's what we're doing out there on the field (at practices)."
With the Jayhawks also learning for the first time this past week what it's like to practice in a program led by Leipold, Kotelnicki said the players aren't only learning the playbook, but also about the strain, effort and physicality this coaching staff wants to see from them.
"But it's been going good," he said. They're understanding, they're picking up the offense really well. There's not mental errors going on out there right now, which is pleasing to me."
Kotelnicki also has been happy to see players progressing at many positions through the first few practices of the preseason. Asked if his video reviews of the sessions left him pleasantly surprised by any player or position group, the O.C. paused before explaining why he didn't want to single anyone out.
"Every group is growing and improving. I think that's probably what I'm most excited about. From one practice to the next there's growth. They're taking the coaching and then they're stacking them together as we say — stacking good practices and technique together. I don't want to name any names," he said, "because I think they're all evolving and growing."
2 potential starters still out
Two key players on the KU roster missed their fourth day of practice in a row on Sunday morning, when junior running back Velton Gardner and sophomore defensive end Steven Parker once again appeared on the team's unavailable list.
Gardner and Parker have been the only players to miss all four practices of the team's preseason camp to date. Leipold, who hasn't spoken with reporters since the end of the first practice on Thursday, didn't have an update on their status at the time.
The only other player who didn't suit up for Sunday's practice was redshirt freshman linebacker Alonso Person, who also missed the first practice, but was back in uniform for two days before reappearing on the unavailable list.