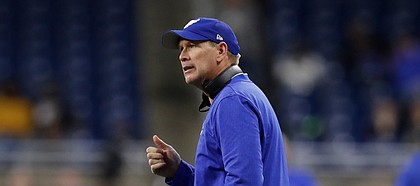 A little more than three weeks after taking over an athletic department with no head football coach in place, new University of Kansas AD Travis Goff filled the high profile vacancy, hiring Lance Leipold to lead the Big 12's perpetually rebuilding program.
The former head coach at Buffalo in the MAC and Division III Wisconsin-Whitewater, where Leipold won six national championships, the 56-year-old heads to Lawrence with a combined 147-39 record as a college head coach, agreeing to a six-year contract with KU.
"It is an exciting and humbling opportunity, and this is a day I will never forget," Leipold stated in a KU release, in which he also thanked KU Chancellor Doug Girod and Goff for the opportunity to become KU's head football coach.
"We are going to build this program through developing players, discipline and determination," Leipold said. "The philosophies engrained in our programs along the way will be key as we turn this around. This is a program that has a lot of young talent on the roster and has the infrastructure in place to succeed. The best days for this program are ahead, and my family and I are ecstatic to be a part of it. I am ready to get to work and give everything I have to the Jayhawks. Rock Chalk Jayhawk!"
Goff, who called this "a tremendous day" for KU, said in his statement that he was "thrilled" to welcome Leipold and his family to Lawrence.
"He is a man of integrity, a developer of young men, a program builder and a winner," Goff stated. "His track record of sustained excellence is exactly what we were looking for in our next leader, and is what the University of Kansas and our fans deserve. His commitment to maximizing our (players') abilities and experience on the field, in the classroom, in the community, and in life after KU is inspiring. Those qualities will attract individuals and develop them into exceptional Jayhawks."
Leipold spent the previous six seasons at Buffalo, going 37-33 (.529). He left for his first crack at a Power Five job after getting the program rolling. In the past three years, the Bulls went 24-10 and played in three consecutive bowl games.
KU, of course, hasn't posted a winning record or received a bowl invite since 2008.
This past year, Buffalo entered the Associated Press' top 25 for the first time in program history, appearing as high as No. 23 late in the season. Leipold led the program to a 6-1 record in 2020, as the Bulls cruised to wins in all but one of their MAC games, and then beat Marshall in the Camellia Bowl, improving the coach's bowl record to 2-1. Buffalo had never won a bowl game in its first 28 seasons playing at the FBS level.
In Leipold's last year in charge, Buffalo averaged 43.4 points (No. 5 among all FBS teams) and 478.1 yards of offense (18th nationally), while allowing 21.9 points (30th) and 360.4 yards (35th) in 2020.
In the competitive MAC — a conference that regularly turns out Power Five head coaches — Leipold reshaped Buffalo into one of the league's best programs. Over the course of the past four seasons, the Bulls won more games (30) than any other team in the conference. A two-time MAC coach of the year, Leipold led the Bulls to a perfect record against division opponents in two of the past three seasons.
Mark Alnutt, Buffalo's athletic director, lauded Leipold in a release announcing the coach's resignation.
"I can't thank Lance enough for everything he has done for our football program," Alnutt said. "His vision and leadership helped elevate the UB football brand. We are grateful for what Lance has done here and we wish him and his family all the best as they embark on this new journey."
Buffalo brought Leipold in to turn around its program after an impressive run at Wisconsin-Whitewater, where he went 109-6 and won six NCAA Division III national titles from 2007-14.
Originally from Jefferson, Wisconsin, Leipold played football at Wisconsin-Whitewater, where he started at quarterback. He graduated from Whitewater in 1987, shortly thereafter joining the football staff there as a quarterbacks coach. Leipold has been a college coach ever since, with stops as an assistant at Doane and Nebraska-Omaha, as well as stints as a graduate assistant at Wisconsin (1991-93) and an administrative assistant working in recruiting at Nebraska (2001-03) along the way.
According to Goff, KU conducted "an extensive national search" before he decided on Leipold. The AD said the search was " guided by feedback from many constituents and this opportunity garnered interest from outstanding coaches across the country."
"We have an obligation to providing a world-class experience for our (players) and that remained at the forefront throughout the search. Additionally, we owe our fans, donors and alumni a football program that will be built for sustained success," Goff stated. "I am confident that is what we will provide under the leadership of Coach Leipold."
With the objective of finding a head coach who can actually help KU finish a season with a winning record again, Goff made the hire in his fourth week on the job at KU, after he was chosen to replace former AD Jeff Long, who stepped down in March.
Long came under fire for his vetting process when he hired Les Miles to lead the KU football program in November of 2018. The scrutiny arose once sexual harassment allegations from years past in Miles' time as LSU's football coach came to light.
Miles left KU two days before Long, in what was described as a "mutual" parting of ways, setting up another coaching change for the long struggling program, just more than two years after Miles, a national championship winning coach at LSU, was brought in to rebuild KU football.
In what proved to be Miles' final season at KU, the Jayhawks went 0-9 during a pandemic shortened 2020 season, a year after going 3-9 in Miles' first year in charge.
Leipold becomes the fifth KU football head coach (not counting interims Emmett Jones and Clint Bowen) since Mark Mangino was forced out following the 2009 season. The Jayhawks have won three or fewer games in each of the 11 seasons since Mangino's departure, under the guidance of Turner Gill, Charlie Weis, David Beaty and Miles.
Led by Jones, KU's receivers coach and passing game coordinator, throughout spring football the past several weeks, the Jayhawks are set to complete their slate on Saturday with their spring game at David Booth Kansas Memorial Stadium (6 p.m., on ESPN+).
---
More reaction to KU football's hiring of Lance Leipold
• KU Sports Hour Podcast: Initial reactions to the Lance Leipold hire
• Substance-over-style approach makes Lance Leipold a great fit for Kansas football
• Lance Leipold's versatility on offense was likely selling point for Kansas football
• No reason to expect KU's roster to fall apart with hiring of Leipold