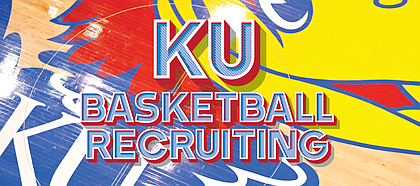 Kansas coach Bill Self is prepared to give a prominent role to four-star point guard Ty Ty Washington, a current KU recruiting target out of Compass Prep in Phoenix, Ariz.
During an Instagram Live interview with ESPN recruiting analyst Paul Biancardi on Sunday night, Washington shared the content of his first conversation with Self, which came on a Zoom call several weeks back.
"So, the very first time I talked to him, he was like, 'You're the kid I'm giving the keys to to run my program next year, right," Washington recalled in the interview. "And I was like, 'Yeah, that's me coach.'
"I was like whoa. I was shocked," he added with a smile.
Despite Washington's enthusiasm in that moment, the Jayhawks still have a ways to go before the 6-foot-4, 180-pound, do-everything point guard is wearing crimson and blue.
But KU is still alive in recruiting battle, which Washington trimmed to six schools over the weekend.
Joining Kansas on his list of finalists are: Arizona, Baylor, Kentucky, LSU and Oregon.
"I just felt like those six, each of the schools fits me best," he said. "The style of play, location and the opportunity to come in and play right away, that's what I was really looking at."
Kentucky and Baylor are two of the more recent schools to jump in the race for Washington, who told Biancardi that the pitch from Baylor was heavily tied to the Bears' recent national championship. Washington said that Kentucky coach John Calipari has played up the point guard betting on himself if he picks UK while noting that playing for the Wildcats is not for everybody.
Self's message seems to be one of persistence.
"Ever since then we've just been talking, and whenever he calls, before he hangs up, he's always like, 'You know I need you bad over here, Ty Ty,'" Washington told Biancardi. "So he just shows and expresses that he wants me over there."
There is no official timeline for Washington to make a decision, but he told Biancardi that he's eyeing the end of the month or the beginning of May as a potential window.
Until then, his plan is simple.
"Go through the rosters, keep watching film and keep building relationships with the coaches," he said.
Washington also said his relationship with each program's assistant coaches and seeing the kind of bond the coaching staffs have with his family would be key factors, as well.
Arizona, during his sophomore year, is the only school of his final six that Washington has visited. But he told Biancardi that he and his family were considering making some unofficial visits to a few schools in the next few weeks. He did not specify which schools were on that list.
Washington's parents have played a big role in his basketball career and he explained some of their biggest influences during the recent interview with Biancardi.
"They always taught me whatever I want I have to go out and take, or earn it, just be humble and keep working hard and eventually it's going to pay off," he said. "You can't cheat this game. If you love it, there's no in between. You're either going to go hard all the time or (you're not going) hard at all."