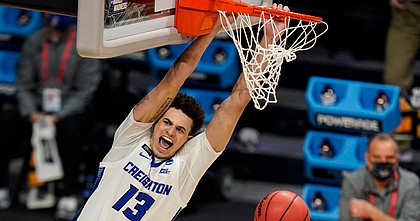 There's certainly no guarantee that something big will not happen on Friday.
That's just kind of the way things have gone with the Kansas men's basketball program for the past few weeks.
But if there's not, we now know the next big day to circle on the KU hoops calendar — Saturday, April 17.
That's when Creighton transfer Christian Bishop plans to announce his future plans, according to an Instagram story by Bishop on Thursday evening.
The 6-foot-7, 220-pound slashing forward from Lee's Summit (Mo.) West High just finished his junior season at Creighton, where he averaged 11 points and a team-best 6.4 rebounds per game in 31 starts.
Bishop is down to a final three of Kansas, Texas and North Carolina.
His addition to the KU lineup would add yet another layer of versatility for Bill Self's remade roster. He ranks second in Creighton history in both single-season field goal percentage (68.1%) and career field goal percentage (64.5%).
That single season mark came last season and led the Big East and ranked second nationally among players with at least 150 field goal attempts.
A big reason for those numbers were his 88 dunks over the past two seasons.
Bishop also ranks ninth in Creighton history with 82 career blocks.
A former four-star prospect out of high school who ranked No. 103 overall by Rivals.com in the 2017 recruiting class, Bishop began his basketball career as a point guard before growing 12 inches during his high school days.
The two-time Missouri first team all-state selection also earned all-area and all-conference honors during his prep playing days.
After playing just 9 minutes per game as a freshman at Creighton, Bishop blew up in Year 2 — thanks largely to the confidence he gained from his performance during the team's summer trip to Australia — and started all 31 games while average 8.6 points, 5.3 boards and 1.1 blocks in just under 22 minutes per game.
In KU's win over Creighton in a Top 5 showdown at Allen Fieldhouse last December, Bishop nearly delivered a double-double, scoring 13 points on 5-of-6 shooting and grabbing nine rebounds in 29 minutes.
He also blocked three shots that night and made his lone 3-pointer of the entire season.
Dushawn London, of 247 Sports, recently caught up with Bishop to break down his finalists and the former Creighton forward said all three programs had a style of play that would fit his skills.
Asked for his thoughts about the Jayhawks, Bishop spoke to program's tradition and the success of KU coach Bill Self as big selling points.
"They have a great history," Bishop said of KU in an interview with London. "I'm from Kansas City, Missouri, so it's only 45 minutes away so that's a nice location. Coach Self is a good man who believes in his players and he always has a good program. That's winning basketball — they always have a winning brand. I also like how they get up and down the court. They're a fast team and (they) do a lot of things well that I also do well."
Bishop pointed out that even though UT and UNC both have new head coaches, in Chris Beard and Hubert Davis, their personal track history along with the tradition at both schools was also attractive.
Bishop told London that finding a school that will help him develop into an even better pro prospect in a family atmosphere played a big role during this round of recruiting.
"I want a place that is like home and where I can play with good players who care about you," he said. "I want a good feel with the team and to have no problems. It's difficult to learn about that stuff right now, but at these schools players are reaching out to me to say what's up so that's been cool. There's good people around wherever you go."