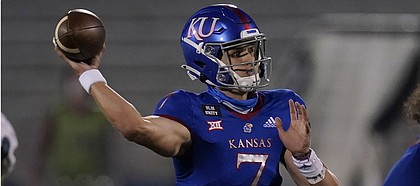 The Jayhawks' starting quarterback in their season opener, Thomas MacVittie, had his last name misspelled on the back of his jersey Saturday night versus Coastal Carolina.
Perhaps the "MacVitte" on his shoulders was an omen that the Kansas football team would run into some issues at QB.
A 6-foot-5 senior, MacVittie started for the Jayhawks, but head coach Les Miles stuck to his plan of playing Miles Kendrick, too, in what would become a 38-23 home loss at David Booth Kansas Memorial Stadium.
MacVittie's night ended prematurely in the third quarter, when he appeared to suffer a shoulder injury and returned to the locker room.
With his evening cut short, MacVittie finished 5-for-9 passing, with only 20 yards on his stat line and an interception — receiver Lawrence Arnold got his hands on an early MacVittie pass but when he didn't bring it in CCU picked the ball out of the air.
A 5-foot-10 junior, Kendrick threw a first-half interception, as well, and ended up completing 15 of 24 throws for 156 yards, with a pair of second-half touchdowns — one to Andrew Parchment on 4th down after MacVittie got hurt and another later to Kwamie Lassiter II.
Asked late Saturday night during his postgame video press conference to assess KU's QB play, the Jayhawks' head coach pointed to the turnovers as the issue.
"We as a team, coaching staff first, will do the things necessary to correct and fix," Miles said. "And I feel pretty good about it."
Miles didn't have an update on MacVittie's status after the loss, nor did he care to address how KU will handle its QB situation moving forward, with the Jayhawks off next Saturday.
"We played three quarterbacks and three quarterbacks that really in my opinion are gonna make a significant future for us at that position," Miles said, even including freshman Jalon Daniels, who played the final series of the loss, in his discussion on the QBs. "It's not just the quarterbacks, it's the room, it's the coaches. We'll all work on it. We'll all stick our head in the fire to make sure this style of play does not become ours."
MacVittie was not made available for an interview after the loss, but Kendrick was and said the two found out during the game week preparation for Coastal that they would both be playing.
Related document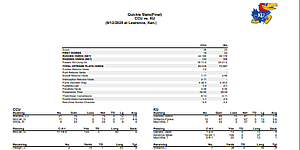 According to Kendrick there was no discussion of which direction the QB competition was headed in the aftermath of the opener.
"Nah, I think we were more focused on tonight's game," Kendrick said, "and what went on tonight and how we can move forward."
Kendrick's first throw of the second half was a 14-yard TD to Parchment on 4th and 5. He would complete five more passes in a row after that and went 8-for-13 through the air in the second half, for 95 yards. He put a 37-yard bomb to Lassiter on the money when he was in a groove.
If playing QB without having to rotate in and out of the game in the second half helped Kendrick he kept that to himself.
"I think it was more of just seeing what the defense was trying to do to us," he said of him improved second half. "We got a little bit more aggressive coming out in the second half throwing the ball. Had enough snaps, had enough time on the sideline to see what the defense was doing and tried to attack."
A true freshman, Daniels came in with the game all but over and made his KU debut. Daniels went 1-for-2 with a 13-yard connection to Arnold.
No Pooka update
Not too long after KU lost MacVittie to injury, star running back Pooka Williams left the game, too, for the same reason.
Asked what happened to Williams, Miles replied, "playing football." KU's coach didn't say what part of Williams' body got hurt in the second half.
"Pooka's got a nick and I suspect he'll be back relatively quickly," Miles said.
Williams finished his junior year opener with 12 carries for 67 yards and wasn't used as a passing target.
Sophomore Velton Gardner sprinted to a 61-yard touchdown late in the third quarter and finished with 81 yards on 11 carries.