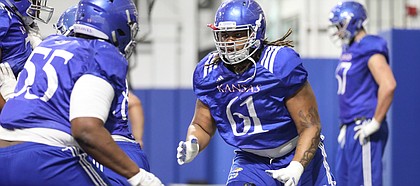 Barring any unexpected developments between now and Saturday night, it seems most of the Kansas football team's starting lineup for the upcoming season opener is set.
The Jayhawks unveiled their first public depth chart of 2020 on Monday, and only two starting jobs on offense remained unresolved. The defensive two-deep didn't include any either-or scenarios.
As head coach Les Miles throughout preseason practices hinted would be the case, KU's starting quarterback spot remains up for grabs heading into the team's debut versus Coastal Carolina. It will be either senior Thomas MacVittie or junior Miles Kendrick leading the offense — or maybe even both of them taking turns, Miles revealed during his Monday video press conference.
The only other ongoing position battle on offense comes on the offensive line, where seniors Chris Hughes and Adagio Lopeti are listed as possible starters at right guard.
Related document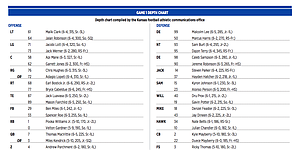 KU football's Week 1 depth chart vs. Coastal Carolina ( .PDF )
With four-year starter Hakeem Adeniji now on the Cincinnati Bengals' roster, KU needed someone to replace him at left tackle. That responsibility will go to the man who played next to Adeniji a year ago, former guard Malik Clark, now a senior.
Sophomore Jacobi Lott moves up the depth chart to replace Clark as the starting left guard, while senior Api Mane is KU's first-string center. A redshirt junior, Earl Bostick Jr. is set to start at right tackle.
A far cry from the QB situation, the starting spots were obvious at KU's other skill positions, of course. Star junior running back Pooka Williams sits atop the depth chart, as do senior receivers Andrew Parchment, Kwamie Lassiter II and Stephon Robinson Jr.
Senior Jack Luavasa is listed as the top tight end, over sophomore Mason Fairchild.
And when coordinator Brent Dearmon wants an extra blocker on the field, KU's first-string fullback again will be junior Ben Miles, a starter in eight games in 2019.
The defensive depth chart also listed 12 positions, reflecting coordinator D.J. Eliot's flexibility to use different personnel combinations for various situations.
Up front, KU expects to start three upperclassmen on the defensive line, with juniors Malcolm Lee and Caleb Sampson as ends, and junior Sam Burt at nose tackle.
Similarly, the three starting linebacker spots belong to program veterans, with senior Kyron Johnson at Sam, junior Dru Prox at Will and senior Denzel Feaster at Mike.
On the outside, though, KU will rely on a much younger talent, with redshirt freshman Steven Parker manning the Jack spot, essentially serving as a linebacker/defensive end who stands up near the line of scrimmage with the primary job of rushing the passer.
The starting Hawk position, a spot that can act as an extra strong safety, goes to redshirt senior Nate Betts.
The Jayhawks are likely to start senior Ricky Thomas at free safety and junior Davon Ferguson as the box safety.
Senior Kyle Mayberry was an obvious choice for one of the starting cornerback jobs, while the other, in a bit of a surprise, currently belongs to true freshman Karon Prunty.
A little more uncertainty exists on special teams, though. For one, KU coaches have yet to award field goal and extra point duties to one kicker. Both senior Liam Jones and redshirt freshman Jacob Borcila are candidates.
When it's time for KU to return punts and kickoffs, the job could belong to either Lassiter or sophomore Kenny Logan Jr.
The other specialist jobs are solidified, with senior Kyle Thompson at punter, senior Logan Klusman at long snapper, junior Donovan Gagen as the holder and Jones handling kickoffs.