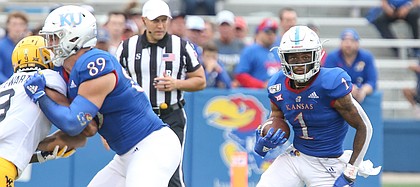 According to Kansas football head coach Les Miles, the Jayhawks are expecting to have running back Pooka Williams back on the roster in 2021.
Williams' decision earlier this week to opt out came without much clarity on his future plans. But Miles, fielding questions from reporters for the first time since the announcement, said on Saturday the star rusher could be back on campus for the spring semester.
"What he said is in January that he's coming back," Miles shared following the Jayhawks' first game without Williams, a 55-14 loss at Kansas State, in Manhattan.
"So it'll be interesting to see," Miles added. "Certainly we'd love to have him."
In Williams' absence, sophomore Velton Gardner handled most of the load at running back, as anticipated. Gardner rushed for 72 yards on 16 carries, while true freshman Daniel Hishaw Jr. added 14 yards on six rushes.
"When (Williams) left, he left to be with his mother, who's sick," Miles responded during his postgame press conference, when asked whether Williams might transfer or enter the 2021 NFL Draft. "I think those minutes and time are something that he'll look back on and not regret leaving the team to be with his mom."
Related document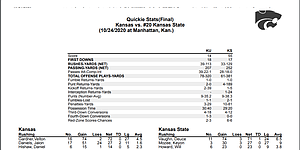 Kansas State 55, Kansas 14 ( .PDF )
KU senior receiver Kwamie Lassiter II said all the Jayhawks could do was take a "next man up" mentality when they learned Williams was leaving the team ahead of this week's rivalry game.
"Of course none of us want to see him go," Lassiter said, "but we understand why."
Lassiter, the only offensive player available for interviews on Saturday, said he had some form of private conversation with Williams since the announcement.
"That's my brother, so we stay in touch of course," Lassiter said. "I respect what he's doing and he's taking care of his family."
Daniels returns
After missing most of the Oklahoma State loss and all of KU's road defeat at West Virginia due to injury, true freshman quarterback Jalon Daniels returned to the starting lineup for KU at K-State.
"His practice week was what won the spot," Miles said after the loss. "What he did was he showed his abilities to hit balls that were tight throws, and in my opinion had a really good week, competed extremely well. We anticipate his accuracy will pick up."
Against the No. 20 Wildcats (4-1 overall, 4-0 Big 12), Daniels set new career highs with 22 completions, 39 attempts and 207 yards while making his third start of the year. Daniels was intercepted once, a costly pick-six in the second quarter that made it a 20-0 K-State advantage.
Daniels also rushed 17 times for 27 yards, scoring both of KU's touchdowns on the ground.
Robinson has surgery
KU was without a number of its regular receivers in the loss, including senior wideout Stephon Robinson Jr.
Miles revealed Robinson had surgery on his lower right leg earlier this week.
"I think he's out for at least a couple, three weeks," Miles said of Robinson, who also missed the opener and played limited snaps in other games. "There's a guy that certainly could have helped us a little bit in this game."
The Jayhawks (0-5, 0-4) also played without receivers Takulve "TK" Williams and Lawrence Arnold. Miles said Williams should be healthy next week, while Arnold should be back in the next two weeks.
Senior receiver Ezra Naylor started for the first time in his career and caught four passes for 40 yards.
More Jayhawks missing
The list of players who didn't dress, which KU publishes shortly before kickoff of each game, included not just those receivers, but also regular contributors in punter Kyle Thompson and safety Davon Ferguson.
It didn't include linebacker Dru Prox, but Prox ended up not playing in the loss at K-State.
"Dru Prox got sick on site," Miles said of what happened, adding the linebacker had the flu but it wasn't a COVID-19 case. "He couldn't play."
According to Miles, KU expects to get Thompson back from an undisclosed ailment.
Running back Torry Locklin, who hasn't played for the offense this year, also didn't dress.