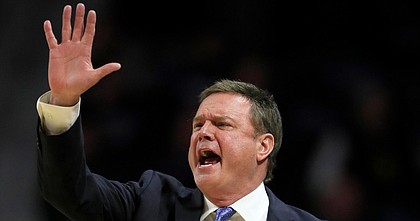 The recent departure of senior forward Silvio De Sousa has inspired Kansas basketball coach Bill Self to explore the idea of playing five-guard lineups this season.
But Self and guards KU Ochai Agbaji and Christian noted Thursday afternoon that the Jayhawks are still in the infant stages of that experiment.
"We (could) go from playing small to playing tiny," Self said Thursday during a video press conference. "And I do think that we could be very hard to guard if we can get creative and get guys to understand how to be creative playing five out, which I've never done before."
One of the things that makes the idea appealing is the fact that the Kansas backcourt is loaded with depth, talent and versatility.
Included on the list of guards that could log significant minutes this season are veterans and newcomers and everything in between.
"We just started working on it,," Braun said Thursday. "But we've got a lot of guards who are really good and can play a lot of different positions. That would be an interesting thing to see, but we just started working on it and we're trying to improve in every area right now."
Agbaji, a junior who has started for the Jayhawks for the past two seasons, recalled one game last year — a home win over Tennessee — when KU actually used the five-guard look.
"We had Tristan (Enaruna) in there at the 5, that worked out pretty well," Agbaji said. "It's kind of still in the works, but that's something we may look at this season."
Because most of KU's guards have little to no experience playing down low, Self said the Jayhawks would be versatile in assigning positions in their five-guard looks.
"I think maybe we could have rotating five," Self said. "Maybe our 5 is whoever their 5 is guarding. I don't think that we're going to be dead set on who would be playing what position. It would be very positionless. But I will say this; if I had to pick somebody that I'd want to be our point guard and somebody that had to play the 5, I would take Marcus (Garrett) on both of those."
Like Agbaji, Self was non-committal about how much or how little the Jayhawks might use the smaller lineups, noting that most of the reason he's even considering it is so the Jayhawks are prepared for anything.
"I'm not saying that's how we want to play by any stretch," Self sai. "But I think we need to be prepared to play that way because of foul situations or injuries or whatever."
With official practices now in their second week, Self said several players, big and small, had stood out in the early going, with Agbaji, Marcus Garrett and David McCormack tops among them.
"Ochai and Marcus and David would certainly have the inside track on starting positions and I do believe that's still the case without question," Self said.
After that, Self said returning guards Braun, Enaruna and Jalen Wilson and backcourt newcomers Bryce Thompson and Tyon Grant-Foster all have stood out at different times.
That fact further supports the idea of getting as many of them
"That would be an exciting lineup for me," Braun said.
Late Night preview
There will be no fans in the stands on Friday night for the annual Late Night in the Phog, and there will be no live action either during the event that will be streamed online at ESPN+ and on KU's website.
"Everything was done pre-recorded," Self said of the skits, scrimmages and hype videos that will accompany the 90-minute event that will also be shown on Midco, Cox, Spectrum and other cable networks across Kansas.
Even with this year's Late Night being drastically different than the 35 that have come before it, Self said he was proud of the way KU pulled it together to keep the tradition alive.
"I thought it went well," Self said. "I haven't seen everything. I know there's obviously many of the same aspects that we've always done."
Added Agbaji: "Our scrimmage and some of the different stuff we did was cool, something new for the new guys. But I think it was still cool and it should turn out great. I'm excited to see what they what they put together."
Jossell still ailing
Freshman guard Latrell Jossell is still dealing with an ankle injury that has limited his participation during KU's first two weeks of practice.
"He still hasn't practiced yet," Self said of Jossell. "He's still not back yet, so he he's behind but everybody else's had their moments where they looked really good."