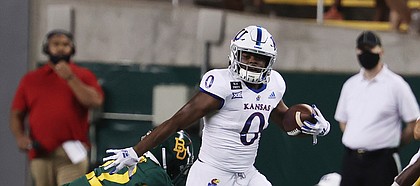 As Kansas football players and coaches approach the midway point of the season still in search of the team's first victory, the Jayhawks now know whatever success they're able to muster will have to come without Pooka Williams, the running back who was supposed to be KU's offensive star.
And though Williams opting out of the remainder of the 2020 schedule may seem like a death knell to some, at least one person close to the program thinks the Jayhawks can manage the blow, because of the presence of Williams' backup, sophomore Velton Gardner.
Former KU running back Brandon McAnderson, now the sideline reporter for the Jayhawks' radio broadcasts, had an optimistic outlook for the offense in the wake of Williams' departure.
Gardner might not be associated with the types of game-changing plays Williams delivered at times, but McAnderson thought Gardner was more productive than Williams during KU's 0-4 start. What's more, McAnderson told the Journal-World there may even be some unforeseen positives that come for KU with Gardner becoming the new primary back.
"I think what will help everyone," McAnderson said, "is that Velton Gardner is not going to be the first name on the scouting report. Pooka Williams was. Pooka Williams might have been the only name on the scouting report outside of (receiver Andrew) Parchment."
Williams garnered that type of attention almost immediately upon making his KU debut. In his first college game, Williams rushed for 125 yards and two touchdowns at Central Michigan in 2018, as KU captured its first road win since 2009.
When the electric running back from Louisiana announced this week he was heading back home to be with his sick mother, Williams had rushed for 2,382 yards and 12 touchdowns in 26 career games, averaging 5.7 yards per carry.
Gardner's debut came with much less fan fare, in 2019. But he finished his freshman season averaging 5.3 yards per carry in his limited opportunities. And Gardner already was KU's leading rusher this year, with 225 yards and 4.8 yards per carry — better than Williams' 196 rushing yards and 3.8 per attempt.
"Velton has also been good from the moment he got here," McAnderson said. "But he won't have that kind of 'save us' pressure that the program kind of put on Pooka. I think he'll be a little bit more free, and I think there will be less pressure for him to produce each time he touches the football."
McAnderson, who played at KU from 2003-07 for then head coach Mark Mangino, projected that Gardner can be about 85% as impactful an offensive talent as Williams. And McAnderson said Gardner and Williams actually share some important traits as rushers.
Gardner, McAnderson shared, is a quick, jump-cutting back, like Williams. And the sideline reporter said Gardner shares some of the awareness Williams has for when to explode on a run — although Williams can do so more suddenly.
"I think the one thing he doesn't have that Pooka has is that lower body strength to accelerate through tackles," McAnderson said. "But he almost does everything else just about as well, in terms of lateral movement, vision, setting up guys. He doesn't get tackled one-on-one a lot at the second level — he just hasn't gotten to the second level very much."
That could change soon with Gardner's workload, and chances to make his mark, expected to increase substantially. During KU's first four games both Williams and Gardner rushed the ball at least 11 times. But their reps were nearly split down the middle, with neither every eclipsing 14 rush attempts in a game. Gardner ran the ball 47 times during the 0-4 start and Williams rushed 51 times.
McAnderson anticipates Gardner finding even more success in the weeks to come, as KU's primary back.
"I think he's had a more productive year than Pooka this year," McAnderson said. "And it's not all mop-up numbers."
Indeed, only in the loss to Oklahoma State did Gardner get almost all of his carries in the fourth quarter. It was Gardner who busted a long, 61-yard touchdown run in the third quarter against Coastal Carolina in the opener. And in KU's most recent loss, at West Virginia, Gardner also had the longest rush, going for 26 yards on a second quarter attempt.
Obviously it's not a given that Gardner will transform into the type of ultra-productive back Williams proved he could be during his first two years at KU, when Williams ran for 100 or more yards nine times and 90-plus on two other occasions.
In fact, McAnderson called Williams the most talented KU player since his Orange Bowl-winning teammate, Aqib Talib.
"Not having him is going to stink, in terms of that ability to always have a guy who literally could score a touchdown on any given play," McAnderson admitted.
Yet the former KU running back said his immediate reaction to Williams' departure might confuse most people.
"I'm so fired up about the outlook of the team that I don't think this is as big a deal as it would seem on the surface," he said.
While Williams was an "A-plus talent," according to McAnderson, KU (0-4 overall, 0-3 Big 12) isn't losing that type of player at the quarterback position, which would be devastating. At running back, McAnderson explained, a lot of times an individual player's success doesn't have as much to do with him as what is happening all around him.
Part of McAnderson thinks at least a slight improvement in rushing production will be possible now, because he liked the way left guard Jacobi Lott played with intensity coming off the ball during the WVU loss, and he thought Adagio Lopeti starting at right tackle (Earl Bostick Jr. moved to right guard) made a difference in KU's offensive line play, too.
Additionally, McAnderson thinks KU will now ask a little more of freshman running back Daniel Hishaw Jr. And because Hishaw is a different type of rusher — more of a power back looking for a gap — than Gardner and Williams, the contrasting styles, McAnderson said, could complement each other.
KU's revamped running back group will make its debut on Saturday at No. 20 Kansas State (3-1 overall, 3-0 Big 12).