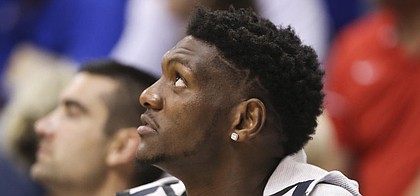 Citing "personal issues," Kansas senior Silvio De Sousa announced Friday afternoon on Twitter that he was leaving the KU basketball program.
"I have a lot of things weighing on my mind and need to address these by taking time for myself and stepping away from basketball," De Sousa wrote. "This was not an easy decision, but it's the best thing for me to do right now."
Thus ends a Kansas career that began with promise and was fraught with setbacks and frustration for both De Sousa and the program.
After graduating from IMG Academy early to join the Jayhawks during the second semester of the 2017-18 season, De Sousa played a key role in KU's run to the 2018 Final Four.
However, allegations of improper benefits taken by his guardian cost him the 2018-19 season and his role in a brawl with Kansas State players at Allen Fieldhouse during the 2019-20 season cost him another 12 games.
Throughout an appeal of a two-year NCAA suspension that ultimately was reduced to one, De Sousa received all kinds of love and support from the KU fan base and the Kansas coaches and teammates. He referenced his appreciation for that during his farewell note on Twitter.
"Jayhawk nation, thank you for welcoming me and supporting me through the ups and downs," he wrote. "It has been very tough for me at times, but you all have meant so much to me."
De Sousa also thanked his coaches and teammates "for always having my back."
De Sousa's decision to leave the program leaves Kansas with two proven big men entering the 2020-21 season. Junior forward David McCormack has been regarded by many as a breakout candidate this season and redshirt senior Mitch Lightfoot also has logged significant experience during three prior seasons with the team.
If anything, De Sousa's departure opens the door for true freshman big man Gethro Muscadin to earn more playing time in 2020-21. But there's also the chance that Muscadin could be viewed as more of a luxury than anything else, with KU possibly moving toward another season full of four-guard lineups.
Earlier this summer, Kansas coach Bill Self called Muscadin raw but made no effort to hide his excitement about the freshman's potential.
"I love his talent," Self said. "He's 6-foot-10 and skilled and he's going to be really good. He's just not physically strong yet like he will be. Six months with (strength coach) Ramsey (Nijem) could make a ton of difference."
In a news release sent out at 4:41 p.m., Self said De Sousa informed him of his decision to opt out of the 2020-21 season earlier Friday.
"Knowing Silvio, it was clear he had been distracted and not fully focused during workouts as of late," Self said. "After he and I sat down and talked about that, it was clear this was the best decision for him and Kansas basketball, to leave the program. At some point in the future, Silvio will decide what his next steps will be and where that will take him. Silvio has worked very hard during his time here and we have stood by him throughout, but we fully understand his reasoning to take time away from basketball. We support his decision and wish him nothing but success moving forward."