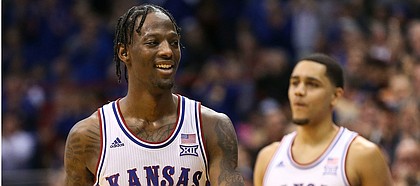 No. 6 Kansas Jayhawks (0-0) vs. No. 1 Gonzaga Bulldogs (0-0)
Time: 12:30 p.m. Thursday, Nov. 26, 2020
Location: Suncoast Credit Union Arena, Fort Myers, Fla.
TV: FOX | Radio: IMG Jayhawk Radio Network
Log on to KUsports.com for our live game blog coverage and follow the KUsports.com staff on Twitter: @KUSports @mctait @bentonasmith & @SJacksonLJW
Keys for Kansas
1. Find out who's ready for prime time
Earlier this week, when looking ahead to the Jayhawks' season opener, Kansas coach Bill Self outlined a list of things he was eager to see from his new-look team.
The theme that connected all of them was simple and asked one question: Which players are ready for prime time?
"I'd like to see how guys react when the lights are on," Self said. "I'd like to see if guys can play without thinking when the pressure is on. I'd like to see if you can carry out an assignment when things are broke a little bit or when things are screwed up or muffed."
KU's coaching staff knows what it's going to get from Marcus Garrett, Ochai Agbaji, Mitch Lightfoot and, for the most part, David McCormack. All are returning veterans with a lot of game experience, and all will play crucial roles for the 2020-21 Jayhawks.
But what about the rest of the gang? It's those guys who will round out what this season's sixth-ranked Jayhawks end up looking like. And even players who were with the program last season, like Christian Braun and Tristan Enaruna, will be in new roles this season, attaching an element of unknown to their play, as well.
Self, of course, has thrown every imaginable situation at his players during recent practices, but he's a big believer that coaches don't really know what their guys can do until they're asked to do it in a game.
"We've got to learn through that," Self said. "And I don't think you can unless you kind of get a chance to experience it when you're under fire so to speak."
Garrett, KU's most experienced player and unquestioned leader, said the best advice he could give the younger players heading into a game of this magnitude was to remain calm.
"Just go out there and compete," he said. "(We want to) let the young guys know there's gonna be turnovers, there's gonna be ups and downs in the game and I just feel like if we stick to the scouting report and have a level head throughout the game we should come out with a win."
2. Take care of the ball
Opening games are known to be full of mistakes, but last season's season-opening loss to Duke in the Champions Classic in New York City took that idea to a whole new level.
Despite looking like the better team in many areas in last year's season opener, Kansas committed 28 turnovers and lost by two points.
Even committing just 25 turnovers probably would've been more than enough for a comfortable KU victory. But that's the way things go in season openers and several Jayhawks who played a role in that one no doubt will be thinking about that heading into this one.
Earlier this week, Garrett said the specific topic of committing 28 turnovers against Duke had not come up and probably wouldn't. But he added that he would do his part to remind his teammates to value each possession, an approach that becomes even more critical when you're playing the nation's top-ranked team.
"As a team, we know we have to take care of the ball, but we will talk about turnovers and things like that," Garrett said.
Self, who, like Garrett, conceded that the Jayhawks would make mistakes in this one, said the biggest key in his mind was how they responded to the hiccups they encounter.
"I'd like to see how mature we are, if we can think next play," Self said. "We'll make mistakes, I mean, we'll make plenty. But if we can think next play and not let one (mistake) become two (that will help a lot)."
3. Which style wins out?
To call this a clash of KU's defense against Gonzaga's offense would be wildly misguided, given the fact that both teams are balanced and can create problems for their opponents on both ends of the floor.
But there's no hiding the fact that Gonzaga tends to put pressure on teams with its offensive attack and Kansas prefers to lock teams up defensively.
At least, that's how it's been in the past, most notably last season, when the Zags ranked No. 1 in KenPom's adjusted offensive efficiency metric at the end of the season and Kansas ranked No. 2 in adjusted defensive efficiency.
Both teams have slightly different looks and different personnel than they did a year ago — when they finished No. 1 and No. 2 in the KenPom rankings — but, philosophically, they're led by the same principles. Self did not get to 708 victories, nor Mark Few to 599, by winging it year after year.
Both programs have well-established systems that contribute greatly to what they're able to accomplish each year, and although the faces might be new in some spots, the emphasis on the court will likely be the same.
What's unique about this season is the fact that the Jayhawks, who averaged 74.6 points per game last season, appear to have a more versatile offensive attack, which could help the offense's efficiency as a whole.
Self's teams have always and will always hang their hats on defense. And this group, with its length and depth, could be solid in that area again this season. But if the Jayhawks take a small step back on the defensive end, they should be able to take that same sort of step forward on offense.
The initial KenPom ratings of the 2020-21 season — which, admittedly, won't mean much for a few weeks — have Kansas ranked No. 2 in adjusted defensive efficiency and No. 12 in adjusted offensive efficiency.
The Zags, meanwhile, check in at No. 1 on offense and No. 10 on defense.
Marquee Matchup
KU senior Marcus Garrett vs. Gonzaga freshman Jalen Suggs
Until Tuesday, this looked like the matchup to watch in the backcourt heading into this top-10 clash to open the season. But then junior transfer Andrew Nembhard received a waiver from the NCAA for immediate eligibility and Garrett's job got a little harder.
It remains to be seen how much time the reigning defensive player of the year will spend on each player, but the matchup with Suggs is by far the most intriguing of the two.
Senior against freshman. Potential against experience. Size against size. And defensive stopper versus explosive scorer.
It should be a lot of fun to see how these two attack each other on both ends of the floor.
Garrett has never met a defensive assignment he backed down from, so you know the KU senior will be up for challenge there.
The bigger area to watch might be when Suggs tries to guard Garrett. Garrett has been so good off the dribble at getting to the rim in the past year or two, that Suggs could face a stiff challenge of staying in front of him, as Garrett looks to use his wisdom and veteran tricks to steal a few points.
"We're expecting Marcus Garrett, if that makes sense," said sophomore Christian Braun. "What he was last year, as a defensive player of the year — probably the best defensive player in college basketball — and then on top of that you know he's got a bigger role handling the ball."
The idea of Garrett running the show even more than he did in the past brings a sense of calm to this team.
"We've all seen what he can do with the ball in his hands," Braun said. "So we're gonna see the defensive player of the year (and) a guy that can get guys shots and get his own shot and get in the lane. He's super important to us, and you guys are going to see just how good he really is."
Jayhawk Pulse
College basketball is back, and it's been a wild ride between the cancellation of the 2020 NCAA Tournament and the delayed start of the 2020-21 season.
The one thing that has remained constant with the Kansas basketball program, however, is the fact that the Jayhawks have not spent much time crying over the opportunity that was taken from them in March.
Good thing, too. Because their opponent in the season opener, could have just as much claim to having its shot at a 2020 national title stolen by the pandemic, as well.
In that way, it seems fitting that the best two teams in college basketball last season are opening a new season against each other.
Regardless of whether he was starting five seniors with three years of starting experience or five freshman playing their first college games, Self almost always would say his teams need more practice time before tipping off a season.

That was the case earlier this week, when Self was asked just how ready the 2020-21 Jayhawks are to take on Gonzaga on Day 1.
"I would say (we're) not very prepared," Self said. "Because of the unknown. If we'd have been able to do a couple of dress rehearsals, I would say that we had a better chance to be prepared. And I'm sure (Gonzaga coach) Mark (Few is) saying the same thing with his group. But you don't know exactly how you'll handle certain things because it's hard to prep for it with no with no rehearsal."
The one thing Self does know is that the players on this roster have generally shown that they like tough challenges. And although it has not happened very often in KU's history — mostly because they've been ranked No. 1 so many times — the opportunity to test themselves against the nation's top-ranked team is one Self believes his players will respond to.
"The most competitive games bring out the most competitive men," Self said. "And this should be one of those games. I'm not saying we're always successful (in those games), but our guys usually rise to that occasion and I certainly anticipate them doing that this year, as well."
Gonzaga opened the week as a 1.5-point favorite in Las Vegas. By Wednesday night, the line had moved a couple of points and the Zags were favored by 3.5 points.
Probable Starters
No. 6 Kansas
G – Marcus Garrett, 6-5, 195, Sr.
G – Ochai Agbaji, 6-5, 210, Jr.
G – Christian Braun, 6-6, 205, Soph.
G – Bryce Thompson 6-5, 188, Fr. -OR- Tyon Grant-Foster, 6-7, 190, Jr.
F – David McCormack, 6-10, 265, Jr.
No. 1 Gonzaga
G – Jalen Suggs, 6-4, 205, Fr.
G – Aaron Cook, 6-1, 180, RS-Sr.
G – Joel Ayayi, 6-5, 180, RS-Soph.
F – Corey Kispert, 6-7, 220, Jr.
F – Drew Timme, 6-10, 235, Fr.