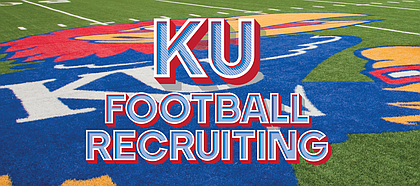 The Kansas football program lost a potential addition to its 2021 offensive line on Tuesday evening, as Christien Hawks, an in-state prospect from Norton, decided his future won't include the Jayhawks.
Rated a three-star offensive tackle prospect by Rivals, Hawks announced on Twitter what he called "a hard decision" to pull his commitment from KU.

Hawks thanked head coach Les Miles and the staff "for everything they've done for me," adding, "I'm excited to see how far they grow in the future."
On Wednesday morning, Hawks announced he will be playing at Air Force.
The 6-foot-5 senior O-lineman gave KU his nonbinding pledge in August. He became the fourth prospect in the 2021 class to decommit from KU.
Roughly three weeks out from the start of the December early signing period, that leaves KU with three O-linemen currently on board in its 2021 recruiting class: three-star Texas prep De'Kedrick Sterns, three-star Georgia tackle Corey Robinson II and two-star Texas prospect Larson Workman.
For the moment at least, KU has 20 of its maximum 25 spots in the 2021 recruiting class filled, with 17 of those players rated as three-star prospects.
The earliest that Class of 2021 prospects can sign and make their pledges official is Dec. 16.
2021 prospects who decommitted from KU
• Keon Coleman — 3-star Louisiana prep WR
• Edgar Amaya — 3-star Alabama prep OL
• Jaddai Henry — 3-star Texas prep WR
• Christien Hawks — 3-star Norton prep OT
KU football Class of 2021 commitments
(Rivals rankings)
• Majik Rector — 3-star Texas prep WR
• Ben Easters — 3-star Indiana prep QB
• Kelan Robinson — 3-star Texas prep WR
• Devin Neal — 3-star Lawrence prep RB
• Mason Brotherton — 3-star Arkansas prep TE
• De'Kedrick Sterns — 3-star Texas prep OL
• Andrew Simpson — 3-star California prep LB
• Trey Staley — 3-star Georgia prep LB
• Omar Burroughs — 3-star Florida prep DB
• Devonte Wilson — 3-star Florida prep DB
• Kameron Grays — 3-star Alabama prep DB
• D'Marion Alexander — 3-star Texas prep LB
• Tommy Dunn Jr. — 3-star Texas prep DL
• Shad Dabney — 3-star Georgia prep DB
• James Wright — 3-star South Carolina DB
• Tanaka Scott Jr. — 3-star Alabama WR
• Corey Robinson II — 3-star Georgia OT
• Deldrick Withers — 2-star Arkansas prep DE
• Larson Workman — 2-star Texas prep OL
• Jayson Gilliom — 2-star Georgia prep DB