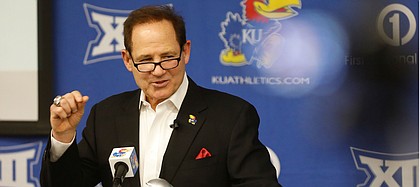 In just a few weeks, Kansas football coach Les Miles will be allowed to go into greater details about some members of his third KU recruiting class, once they sign and make their pledges official.
But Miles didn't mind sharing his anticipation regarding what's to come with the Class of 2021 during his "Hawk Talk" radio show on Wednesday night.
"Excited about the offensive line, excited about the quarterback that's committed," Miles said, going out of his way to not name any of the players by name, as NCAA rules don't allow coaches to speak publicly about recruits until they have signed letters of intent. "We have a great back in the neighborhood. And it sounds to me that this class is going be one of those classes that Kansas sees as a championship team."
The players Miles referenced in a roundabout way are all high school prospects who could potentially sign as early as Dec. 16: offensive linemen De'Kedrick Sterns, Christien Hawks, Corey Robinson II and Larson Workman, QB Ben Easters and Lawrence High star running back Devin Neal.
With the Jayhawks still in the early stages of a rebuild, nearing the end of Miles' second season with the program, Miles indicated the amount of freshmen that are playing right now also helps entice recruits.
"Yeah, I can do what he can do. And I will be a freshman and want in," Miles said of the general thinking of high school seniors whom KU is targeting.
Through KU's 0-7 start to the 2020 season, 24 true freshmen already have appeared in at least one game.
Another QB update
Although Miles wouldn't say definitively earlier in the week whether KU's starting quarterback, true freshman Jalon Daniels, would be back in the lineup following an injury and a bye week, the coach said Wednesday Daniels has practiced since then.
Of course, the QB now has another week to prepare for the Jayhawks' next game, after KU was unable to meet Big 12 thresholds for playing, ahead of its original home date with Texas, which was postponed to Dec. 12.
"He doesn't have a tight ankle," Miles said of Daniels, who hurt his left ankle late in KU's Oct. 7 loss at Oklahoma. "He's really ready to play."
KU's next game, which will be played without fans in attendance, is at home versus TCU on Nov. 28 (7 p.m. kickoff, FOX Sports 1).
PFF ranks KU's QB situation near bottom
The Jayhawks' passing game never has taken off in 2020, as evidenced in a new assessment from Pro Football Focus.
In a ranking of the QB situations for all 127 FBS programs, PFF's Anthony Treash listed KU and Daniels 123rd.
Entering the final three games of the season, Daniels has started five games, played three to completion and stayed in for the majority of the OU loss (an injury suffered versus Oklahoma State on Oct. 3 ended his day in the first half).
So far, Daniels has completed 72 of his 139 throws (51.8%), for 661 yards, with four interceptions and no touchdowns. The young QB already has been sacked 25 times this season.
Treash wrote: "… at no moment has he flashed the potential to turn around this program — at least not in the immediate future."
Per PFF, Daniels' passing grade this season is currently 39.3, and he ranks 117th in turnover-worthy play rate (6.7%).
"He can make some plays on the ground with his athleticism," Treash's analysis continued, "but with a few fumbles to his name, he struggles to even properly take care of the ball in that facet."
Daniels has been assessed four fumbles — two came in his first career start at Baylor — in his first six college appearances, and KU lost possession of one of those, against Iowa State.