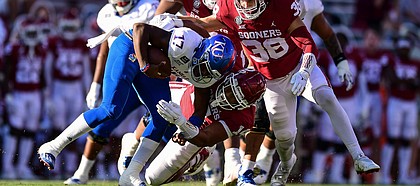 Kansas football coach Les Miles didn't envision his Jayhawks getting steamrolled at Oklahoma on Saturday.
Following the 62-9 vanquishing, Miles called what transpired a "painful event," because "I promise you I felt like we could play with these guys. I felt like we could run the football with them and throw efficiently."
As so often has been the case this year for the winless Jayhawks, though, the offense fell flat behind an O-line that missed the mark.
KU's passing game barely eclipsed 150 yards, and 36 of the Jayhawks' 151 passing yards came in the fourth quarter, long after the Sooners had pulled away. On the ground, 35 of KU's 95 rushing yards took place in the final quarter.
And it was on the final series of the blowout that KU picked up roughly 30% of its total offense for the day (76 of the team's 246 yards) and it's lone touchdown.
The Sooners (5-2 overall, 4-2 Big 12) sent KU backwards 11 times on offense, sacked freshman quarterback Jalon Daniels nine times (tying an OU defensive record) and were credited with six more hurries in the rout.
Miles continued to show support for the Jayhawks' struggling O-line, though.
"I really think — this is what's hard — that they're capable," Miles said.
KU (0-7, 0-6) was without injured would-be starter Chris Hughes, but had its regular personnel on the left side, with tackle Malik Clark and guard Jacobi Lott, as well as at center, with Api Mane.
Minus Hughes at right guard, KU started Adagio Lopeti, and Earl Bostick Jr. started at right tackle for the fifth time this season.
"What can you do?" Miles said, repeating a question regarding how the coaching staff could address KU's obvious O-line issues. "Continue to work them. We've got an open date (with no game on Nov. 14) and at some point in time there will be some young guys shooting ahead, and if that's what happens, that's what happens."
Opponents have sacked KU quarterbacks, on average, 5.4 times a game in 2020. While several teams haven't played as many games as KU, the 38 sacks the Jayhawks have surrendered is the highest total among all FBS teams at this juncture.
Although KU has started senior Clark at left tackle and sophomore Lott at left guard every game this season, the edge on that side of the offensive line has proven to be a consistent avenue into the backfield.
In 2019, Clark started at left guard, next to Hakeem Adeniji, who now plays for the Cincinnati Bengals.
Related document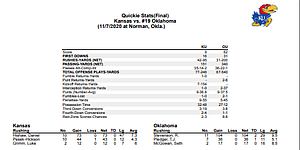 Oklahoma 62, Kansas 9 ( .PDF )
With Clark's transition to left tackle not going smoothly, Miles was asked after the OU loss whether the coaches have considered moving the 6-foot-4, 323-pound O-lineman form New Orleans to another position.
Miles said he would rely on O-line coach Luke Meadows to make that decision, and the staff would "certainly consider" such a move.
"I like him," Miles added of Clark. "I think he has mobility and he's a natural guard, which we all see, but he also has really strong mobility."
The KU offensive line struggled so badly versus Oklahoma that Daniels' safety was called into question during Miles' postgame press conference, shortly after the freshman QB's day concluded with Daniels sprawled out awkwardly on the field following a sack that injured his left leg.
Would KU's head coach consider taking Daniels out of the lineup if the O-line doesn't improve?
"Probably not," Miles replied. "Probably I would work this offensive line harder and longer and make sure that they understood the technique that they needed to have."
The KU coach also stated he thought the O-line has continued to improve this year.
"And it just goes to show you," Miles added, "this is really a pretty good Sooner football team."