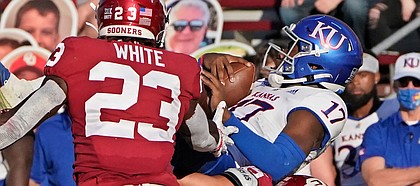 An overmatched Kansas football team failed to muster a touchdown until the final snap of the day at No. 19 Oklahoma on Saturday.
The 62-9 thrashing concluded in Norman, Okla., with Jayhawks backup quarterback Miles Kendrick hitting reserve tight end Will Huggins for a 20-yard TD as time expired.
Starting QB Jalon Daniels didn't get to finish the game, because the Jayhawks' offensive line couldn't keep OU defenders blocked. The Sooners sacked KU's true freshman QB nine times, injuring Daniels' left leg on their final takedown in the fourth quarter at Gaylord Family-Oklahoma Memorial Stadium.
"He got hit a lot of times," KU head coach Les Miles said afterward. "We can't treat our quarterback that way or we won't have one."
OU starting QB Spencer Rattler didn't dismantle KU in the Sooners' first home game in six weeks, but his teammates made that a non-issue as Rattler dealt with a hip injury and finished 15-for-27 through the air, with 212 passing yards, one touchdown and one interception.
The Sooners didn't need their No. 1 QB at full health and on point to roll against the winless Jayhawks. OU averaged more than 7.0 yards per play through three quarters, and on the first play from scrimmage in the fourth, reserve QB Tanner Mordecai found receiver Marvin Mims in the back of the end zone for a 14-yard TD that broadened OU's advantage to 48-3.
Although KU's defense surrendered 540 yards and 8.1 yards per play, Miles pointed to the strength of the Sooners rather than the shortcomings of KU's defense.
Senior outside linebacker Kyron Johnson said afterward that the defense players fought to the best of their abilities but admitted there were some issues.
Related document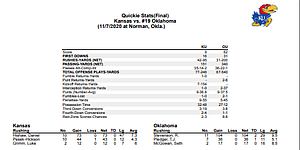 Oklahoma 62, Kansas 9 ( .PDF )
"It was just a bunch of misaligning and probably missed assignments, basically," Johnson said.
The Oklahoma ground game (200 rushing yards) thrived during the drubbing, too, when the Sooners decided to take a different approach. Both Rhamondre Stevenson and T.J. Pledger averaged more than 5.0 yards per carry, and OU averaged 6.5 yards a rush as a team, with six rushing TDs.
The Sooners (5-2 overall, 4-2 Big 12) turned to backup QB Mordecai late in the third quarter, with a 38-point lead. The change came immediately after the Jayhawks, desperate for their first touchdown, went for it on 4th-and-7 at the OU nine-yard line and Nik Bonitto brought down Daniels (11-for-31 passing, 115 yards, two interceptions) for a sack — a recurring theme in the rout.
"I didn't expect they would run around our tackles like they did," Miles said.
The Sooners had to settle for a 50-yard field goal from Gabe Brkic on their first series of the third quarter, but they were back to deep-sixing the Jayhawks before long.
Senior OU running back Stevenson eclipsed 100 yards rushing on just his 11th carry of the day with 8:59 left in the third quarter, racing 29 yards to a touchdown that extended an already comfy Sooners lead to 41-3.
"It was overwhelming, I will admit that," Johnson said. "But we've just got to keep chopping wood."
The ever-struggling KU offense went three-and-out three times on its first eight possessions and turned the ball over twice in the first half. OU out-gained KU, 268-112, in first-half yardage.
But the Jayhawks' final series of the half helped them save some face in that department. Daniels found fellow true freshman Luke Grimm deep for a 23-yard pass, the longest play of the half for KU, late in the second quarter, and the ninth and final drive went 47 yards before KU called timeout with two seconds left until halftime. A 32-yard Jacob Borcila field goal allowed the Jayhawks to head to the locker room with some points, but a also a hefty 31-3 deficit.
The Jayhawks (0-7, 0-6) already trailed, 21-0, in the second quarter when Miles took an assertive offensive gamble on 4th-and-1, from KU's own 27-yard line. Daniels kept the ball on an option sprint out to the right edge, and when the QB tried to hurdle a defender to gain the yardage he needed for a first down, both Tre Norwood and Shane Whitter hit Daniels, knocking him to the ground shy of a first down.
The risk didn't bite the Jayhawks too badly, though, as the KU defense limited OU to a 40-yard Brkick field goal that made it 24-0, after Kyron Johnson delivered his second sack of the first half, with Rattler on the bench due to some hip pain.
The Sooners' next possession, though, looked more on brand. Even though Rattler returned and moved poorly while dealing with pain on the series, OU didn't ask much of him and two long runs helped set OU up for a four-yard T.J. Pledger TD run and a 31-0 lead.
KU senior safety Ricky Thomas said miscommunication on "a few plays here and there" led to KU's defensive issues.
"A guy running open down the field, he picks up 30 yards," Thomas gave as an example. "That happened like twice today."
A wild first eight minutes of action included three interceptions and two forced fumbles between the two teams, with one snap contributing a takeaway to both the Jayhawks and Sooners.
KU's first big play of the afternoon came on defense, as sophomore safety Kenny Logan Jr. seized an opportunity to pick off Rattler. The OU QB tried to make a difficult throw across his body while on the move, and when it went off target, Logan broke on the ball to secure an interception for the second week in a row.
The second positive play for the massive underdogs transpired, strangely enough, as the result of a KU mistake. Daniels threw his second interception of the game to end KU's third possession of the afternoon. But before defensive back Brendan Radley-Hiles stepped out of bounds on his return, KU freshman receiver Grimm raced him down from behind and knocked the ball loose. Right tackle Earl Bostick Jr. fell on the ball and after a review, KU had the ball right back.
The Jayhawks couldn't capitalize on either of their chances at some early momentum, though. The double-turnover came five plays after Logan's pick. And when KU got the ball back after giving it away, the offense promptly went three and out.
Despite the lopsided result, senior receiver Andrew Parchment (three catches, 25 yards) shot down the notion that the Jayhawks were overmatched at OU.
"They put on their pads the same exact way," Parchment said. "I felt like I was winning my one-on-one battles. I'm not scared of anybody in the Big 12 or anybody in the country. Anybody can get it. We've just got to keep working. Everybody understands what are circumstances are. We've just got to keep working."
OU built a 14-0 lead late in the first quarter. A fourth-down conversion at midfield keyed the Sooners' second scoring drive. Six plays later, OU running back Rhamondre Stevenson stiff-armed Logan and lowered his shoulder into KU cornerback Karon Prunty on the way to the end zone.
While KU's opening series on offense began with some promise, as Daniels converted on third down with a completion to Kwamie Lassiter II, his next third-down throw blew up in his face. Tre Brown easily jumped the pass intended for Ezra Naylor to intercept it.
Three snaps later, the Sooners took the lead for good, less than four minutes in, as Rattler spotted Austin Stogner without a Jayhawk anywhere near him on what became a 20-yard TD pass.
"I still don't feel like that we can't play with them," Miles said after the loss. "I didn't say we'd beat them, but certainly I thought we'd play with them today and give ourselves a chance to beat them late in the game. But, nah, it didn't happen that way."
The Jayhawks haven't defeated OU since Oct. 4, 1997. The Sooners extended their win streak in the series to 16.
KU has its third and final bye week of the 2020 season next week. The Jayhawks return to action on Nov. 21, when Texas visits Lawrence.
SCORE BY QUARTERS
FIRST QUARTER
12:01 — Austin Stogner 20 pass from Spencer Rattler. Gabe Brkic kick. Three-play drive for 45 yards. (OU 7, KU 0.)
1:26 — Rhamondre Stevenson 13 run. Brkic kick. Ten-play drive for 59 yards, in 4:20. (OU 14, KU 0.)
SECOND QUARTER
8:13 — Spencer Rattler 2 run. Brkic kick. Five-play drive for 76 yards, in 2:49. (OU 21, KU 0.)
4:48 — Brkic 40 field goal. Five-play drive for 31 yards, in 1:53. (OU 24, KU 0.)
1:26 — T.J Pledger 4 run. Brkic kick. Six-play drive for 57 yards, in 2:26. (OU 31, KU 0.)
0:00 — Jacob Borcila 32 field goal. Eight-play drive for 47 yards, in 1:26. (OU 31, KU 3.)
THIRD QUARTER
11:17 — Brkic 50 field goal. Nine-play drive for 42 yards, in 3:43. (OU 34, KU 3.)
8:59 — Stevenson 29 run. Brkic kick. Five-play drive for 53 yards, in 1:17. (OU 41, KU 3.)
FOURTH QUARTER
14:54 — Marvin Mims 14 pass from Tanner Mordecai. Brkic kick. Four-play drive for 56 yards, in 1:07. (OU 48, KU 3.)
11:21 — Marcus Major 4 run. Brkic kick. Five-play drive for 70 yards, in 1:57. (OU 55, KU 3.)
7:50 — Chandler Morris 13 run. Stephen Johnson kick. Four-play drive for 30 yards, in 1:35. (OU 62, KU 3.)
0:00 — Will Huggins 20 pass from Miles Kendrick. No PAT. Fifteen-play drive for 75 yards, in 7:50. (OU 62, KU 9.)