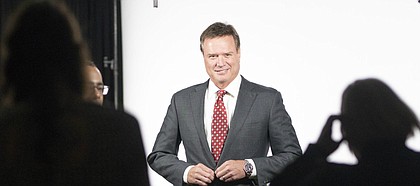 Kansas basketball coach Bill Self and some of the school's other coaches were back in their offices this week — albeit with a host of COVID-19-related precautions and new routines.
Before entering the building, Self said he had to have his temperature taken. Masks also are required at all times, and coaches and staff members are only allowed in their offices for as long as they need to be there. Sometimes that's less than an hour; other times, it's for four or five hours.
Self's return on Monday marked the first consistent stretch of time spent in his familiar surroundings since the KU athletic department closed down in March in response to the COVID-19 pandemic.
"It's still a ghost town up there," Self told the Journal-World of the areas surrounding the men's basketball offices. "But it's nice to be back."
KU's assistant basketball coaches also were allowed back into their offices in a limited capacity this week.
According to a Kansas Athletics spokesperson, KU is following the recommendations of state officials and the Centers for Disease Control and Prevention in terms of how it reopens parts of its athletic department. Those recommendations include plans not only for how to operate while in the office but also for who can be in the office to begin with.
Those who can work from home are still doing so. The process of getting back into the office is being implemented in phases, and communication with the athletic department's health care group, Kansas Team Health, is a key part of the process.
Although he got used to being hunkered down at home, Self said being back in the office has its advantages.
"It probably does open things up a little more and I think I am able to get a little more done," Self said. "It's nice to be able to come and go as needed and have a little more freedom that way."
APR OK
The NCAA on Tuesday released its latest Academic Progress Rate numbers for the 2018-19 academic year, and all 16 of KU's varsity athletic programs came in well above the 930 score that is considered to be in good standing.
Women's swimming and diving led the way for Kansas with an APR mark of 998, and more than half of KU's programs (9 of 16) scored above 980.
A team's annual APR score is a measure of two things: the overall eligibility of its athletes and the retention of those athletes from semester to semester as they pursue their degrees.
The system came about in 2003 as a new way for universities to track the academic performance of their student-athletes, and APR scores are monitored over both annual and four-year timelines.
Here are KU's APR scores for 2018-19:
• Women's swimming and diving — 998
• Women's cross country — 995
• Women's golf — 994
• Women's volleyball — 989
• Men's basketball — 984
• Softball — 982
• Men's golf — 981
• Women's soccer — 981
• Men's cross country — 980
• Baseball — 976
• Men's track — 975
• Women's basketball — 975
• Women's track — 974
• Women's rowing — 969
• Football — 960
• Women's tennis — 953