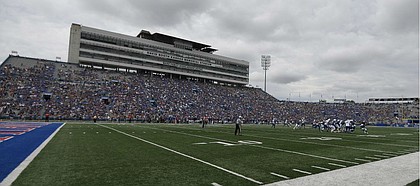 Kansas Athletics Inc. is conducting an online survey to gauge fan interest in attending KU sporting events in the fall and beyond.
The COVID-19 Fan Impact Survey, which is run through a third-party website, was sent to all donors, season-ticket holders and single-game ticket buyers and takes about five minutes to complete.
Its purpose is for the information gathered to function as "a great barometer" for KU's athletic department and facilities staff as they prepare for the eventual return of fans to KU's athletic venues.
The following questions were asked in the survey:
• Affiliation to KU. For example, are you a donor, an alum, a fan, a student, member of the faculty or other.
• Your age.
• Your level of concern about COVID-19 impacting both your personal and business finances.
• Your level of concern that someone in your family will contract COVID-19.
The survey, which features mostly multiple-choice questions, also asks about potential game day experiences.
• How would social distancing practices impact your desire to attend live sporting events when they return?
• Assuming proper precautions are taken, how soon would you attend KU events?
• How likely are you to participate in non-game entertainment, such as tailgating and donor events?
• How concerned are you about entering the facilities?
• How concerned are you about purchasing food and beverages at KU sporting events?
The survey also included three fill-in-the-blank questions that asked which KU event fans were most looking forward to after social distancing restrictions were lifted; which brands or companies KU fans had come to trust most during the pandemic; and where fans received their updates on the COVID-19 situation.
The note attached to the email that delivered the survey indicated that KU plans similar surveys in the future as the athletic department gains a better understanding of both time frames and protocols for hosting college athletics events again.
Nothing official has been decided about the start date or specific plans for any of KU's 10 fall sports in 2020, but KU administrators said earlier this month that they anticipated the resumption of on-campus operations in some capacity during the fall semester.

KU's 10 fall sports are: football, volleyball, men's and women's cross-country, men's and women's golf, women's soccer, rowing, women's swimming and diving and women's tennis.