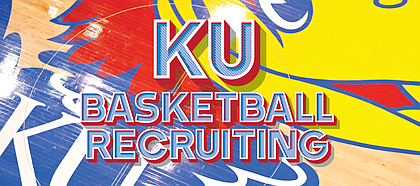 The Kansas men's basketball program landed an oral commitment from class of 2021 forward Zach Clemence on Monday morning.
Clemence, a 6-foot-10, 205-pound athletic forward from Sunrise Christian Academy in Bel Aire, announced the news in an interview with Evan Daniels of 247Sports. He becomes the first player in the 2021 class to commit to Kansas.
A four-star prospect, ranked No. 31 overall in the class by both 247Sports and Rivals.com, Clemence's path to Kansas seemed predestined.
"My mom has always just loved Kansas and college basketball, so I just kind of grew up around it," Clemence told the Journal-World in a Monday morning phone interview. "I guess you could say she kind of brainwashed me to like KU."
After receiving a scholarship offer from Kansas before his junior season, Clemence spent a little time sorting out his options and looking at other schools. But throughout the process, he never could get KU out of his mind.
That led him to Monday, when he decided to make his commitment official on a Zoom call with his mother, Kansas coach Bill Self and assistant coach Norm Roberts, who was the lead recruiter for Clemence.
"I've been thinking about doing it for the last month or so," Clemence said. "I've just got a great relationship with the coaches and the coaching staff there and I figured, why wait on something that you know is going to be great for you."
Originally from Pleasanton, Texas, a town of 11,000 people that dubs itself as "the birthplace of the cowboy," Clemence grew up on a ranch about an hour outside of San Antonio and transferred to Sunrise last season.
He said he has yet to make an official visit to KU's campus, but was in Lawrence for Late Night last season and has been to a handful of KU games. Asked if any of them were particularly memorable, Clemence laughed and said, "All of them."
"I think I've been going to KU for like six years, unofficials, games, all that," he said. "They're all great. The fan base, the atmosphere, I don't think there's anything like it."
Known as a versatile big man who can play three positions, Clemence said he favors the role of the stretch 4 because it puts him in the best position to capitalize on his wide range of skills.
"You get to do it all," he said. "The 4, in my opinion, is the best position in the game. You can do literally everything from that spot."
Asked to pinpoint his strengths, Clemence, who compares favorably in size and style of play to Duke sophomore Matthew Hurt, said shooting and athleticism were the most important parts of his game.
Scouts say he also has good hops and is comfortable around the rim.
"(Clemence) can really shoot the ball from deep, but is also very mobile, runs the floor and is adding the strength necessary to be a force on the glass," wrote Rivals' Eric Bossi.
As for what he is working to improve the most during the summer and his senior season before coming to KU, Clemence pointed to his ball handling.
"I really want to work on my guard skills," he said. "I move way different than most 6-10 bigs, but, really, I want to keep working on everything in my game. You can always get better."
Clemence picked Kansas over offers from Baylor, Texas Tech, Arkansas, Oklahoma, Oklahoma State, TCU, Ohio State and others.
"I figured it was a good Mother's Day gift," he joked of why he chose to make his decision official on Monday morning. "But, really, I just wanted to go where I feel most comfortable and be able to have fun my senior year and go represent."