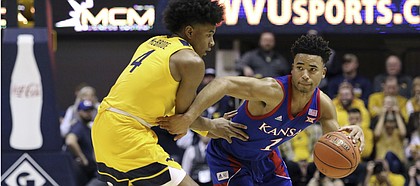 After testing the NBA waters following his freshman season at Kansas, point guard Devon Dotson's decision about what to do after Year 2 has arrived sooner than anyone could have imagined.
With college basketball's postseason being called off Thursday over concerns of the spread of the coronavirus, the focus now shifts to what's next.
While that question carries with it a fair amount of uncertainty for spring sports teams and several professional leagues, for Dotson it means a decision about whether to turn pro or return to KU for his junior season.
"He hasn't been 100% in terms of anything," Dotson's father, Dana, told the Journal-World during a late-season interview in Lawrence. "His philosophy is let's just focus on the season and then after the season, kind of like we did last year, then we'll have that talk."
Added Dotson's mother, Angie: "We're really into our faith. So we just tell him to pray about it and let God lead you."
Dotson took his decision to the 11th hour a year ago, announcing just before the deadline that he would pull his name from the NBA Draft pool and return to Kansas for a second season.
The 6-foot-2 point guard from Charlotte, N.C., made the most of his return, leading the Big 12 in scoring, at 18.1 points per game, and earning unanimous All-Big 12 honors from the coaches and The Associated Press.
Dotson also was named a first-team All-American by Bleacher Report and figures to have more accolades on the way as the college basketball world recovers from Thursday's news and gets back to business as usual.
According to Dana, part of the reason Dotson had such a strong second season was the experience of working out in front of NBA scouts and personnel last summer.
"I thought it was fantastic," Dana said. "Any time you can get feedback directly from NBA teams, that's real helpful, real feedback. He's always been focused, but that definitely gave him even more focus."
Dotson has a few friends and former teammates now playing in the NBA. And the chance to talk with them, while also hearing how things work from NBA management, gave the Kansas point guard added insight into what it takes to play and succeed at that level.
Dana Dotson said Grant Williams, who played with Dotson at Providence Day in Charlotte and is now with the Boston Celtics, played a big role in helping Dotson understand that "intangibles matter."
"All these NBA guys are really good," Dana said. "And I think it helped him see that it's just the little things that separate people."
With the college basketball season ending a few weeks early, Dotson and others in his position have even more time than normal to make their decisions.
According to NBA.com, the early entry deadline for the 2020 draft is set for 10:59 p.m. April 26. The 2020 NBA Draft Combine is scheduled for May 21-24 in Chicago, where Dotson was born.