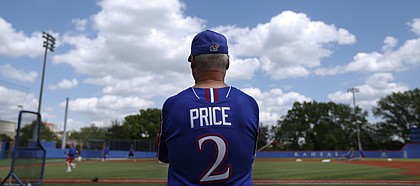 The Big 12 Conference on Friday evening announced that all conference and nonconference spring sports competitions through the end of the academic year have been canceled.
The move, which comes in response to concerns about the spread of the coronavirus, puts an end to Kansas baseball, softball, track and field, rowing, men's and women's golf and tennis for the 2020 seasons.
The end of the spring seasons, which are barely a month old, came one day after the NCAA and Big 12 canceled the postseason for its men's and women's basketball programs.
In announcing the decision, the Big 12 also mandated that "all organized team activities, whether organized or voluntary, including team and individual practices, meetings and other organized gatherings, have been suspended until March 29 and will be re-evaluated at that time."
"As devastating as the news is, the safety of our student-athletes, the people on our campus and everyone in this community, that's the No. 1 concern we all have right now without question," KU baseball coach Ritch Price told the Journal-World just minutes after the Big 12's announcement.
Price's team was scheduled to host Cincinnati this weekend and was hoping to get back to .500 for the season. Now, the veteran KU baseball coach is uncertain when his players will even be able to get back on the field, either together or individually.
Price, who is well connected at all levels of baseball, said he had been on the phone throughout the day Friday trying to get commitments from professional scouts — many of whom have been taken off the road as a precaution themselves — to come to Lawrence for pro scouting days with his players who have aspirations to play beyond college. When that might be allowed to happen, if at all, is anybody's guess at this point.
"I've never been in this position in 40 years," Price said. "So I really don't know. It's kind of uncharted waters and we've just got to wait and see."
Price said both he and the KU administration had talked to his players and explained to them that KU would do everything it could to help them stay on track both athletically and academically.
Although disappointed, Price said his team was not surprised when they heard Friday's news.
"We all knew there was no way amateur athletes would be able to play if professional athletes weren't allowed to play," he said. "I pride myself on being a player's coach, and my whole career has been about taking care of players first. Our guys have handled it great, and we're going to do everything we can to help them get through this."
Men's golf coach Jamie Bermel also said his primary focus was on his players, particularly sophomore Shaun Campbell and junior Harry Hillier, who hail from New Zealand and are uncertain about what lies ahead for them.
"My biggest concern, quite honestly (is) what they can do and should do," Bermel said. "It's not like they can just fly home for two weeks or whatever."
Ranked 34th in the country and fresh off a three-day tournament in Bandon Dunes, Ore., Bermel said his golfers might not have fully digested what happened Friday.
"I don't know if they fully understand yet that it's over," Bermel said. "I just feel terrible for everybody. For the kids. For parents. But there's a bigger picture to all of this. People are dying because of this virus and hopefully moves like this can help everybody get things under control."
Friday's announcement also impacts KU football and the start of Les Miles' second season in charge.
The Kansas football team's spring practice schedule was supposed to get started this coming Tuesday.
With the Big 12 suspending all team activities until at least March 29, when or if the Jayhawks and other football teams around the conference will be practicing at all this semester remains unclear.
KU was slated to have 15 spring practices, per NCAA rules, culminating with an April 18 spring game.
The NCAA on Friday announced that its Division I Council Coordination Committee had taken steps to provide eligibility relief for spring sports.
"Council leadership agreed that eligibility relief is appropriate for all Division I student-athletes who participated in spring sports," the NCAA said in a statement. "Details of eligibility relief will be finalized at a later time. Additional issues with NCAA rules must be addressed and appropriate governance bodies will work through those in the coming days and weeks."
— Sports reporter Benton Smith contributed to this report.