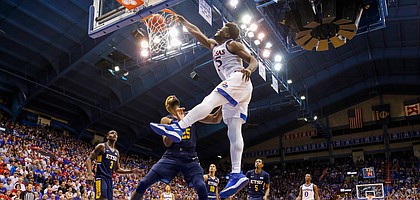 It will go down as a week of firsts for Kansas senior Udoka Azubuike.
On Sunday, Azubuike was named the Big 12 Player of the Year by the conference's coaches, backing up the preseason honor he was given five months ago.
On Thursday, Azubuike is scheduled to play in his first ever Big 12 Conference tournament game.
"For real," asked Azubuike during Monday's press conference after a reporter mentioned the rare fact to him. "Oh, wow. You're right."
After three seasons of sitting on the bench in street clothes because of injury during the event at Sprint Center in Kansas City, Mo., the 7-footer is ready to kick off what he and his teammates hope will be a memorable 2020 postseason run with his first taste of the conference tourney.
"It's going to be an exciting experience for me," Azubuike said. "I hadn't even thought about it, and it's going to be a great moment."
After missing the tournament his freshman year because of a wrist injury in December, Azubuike was on the shelf during his sophomore season after injuring his knee just before the Big 12 Tournament tipped off. He missed all three games of KU's title run that season but was able to return for the team's run to the Final Four in the weeks that followed.
Last season, Azubuike missed the Sprint Center fun again because of a wrist injury on his opposite arm.
Azubuike's absence during the last three Big 12 tournaments had not dawned on Self until Monday either.
"How about that," Self said when asked if he thought Azubuike would have extra incentive to perform well in his first Big 12 Tournament. "I did not realize that. … I think he would be extra-motivated in large part because of what happened yesterday."
Self was the one who told Azubuike the news of his Big 12 award, placing a phone call to his big man just after 4 p.m. Sunday.
And both Self and Azubuike said the moment was emotional.
"I was speechless," Azubuike said. "I didn't know what to say when I got the call. For all I've been through throughout the years, winning Big 12 Player of the Year means a lot. I didn't know how to put it in words. It's a huge honor."
And it's one the senior from Nigeria said he never really thought would come.
Even back in October, when he was named preseason player of the year by the league's coaches, Azubuike said he was "skeptical" that a day like Sunday would be in his future.
"I didn't know if I was going to live up to the expectation," he said Monday. "It all comes down to my teammates and my coaches. They did an unbelievable job, and me winning (this award) wasn't just about me. It was also about them, too."
A couple of weeks ago, former KU forward Marcus Morris returned to town to see his jersey raised into the Allen Fieldhouse rafters. And it was Morris' player of the year season in 2011 that was made him what Self referred to as "a lock" to receive that honor.
Someday, years from now, Azubuike will return to Lawrence to get the same treatment and Self said that was what made moments like Sunday so special for him and the program.
"That was really cool," Self said. "I know it meant an awful lot to him. Considering all the heartache he's had since he's been here, (he can now say) that staying here four years was definitely worth it. … Here's the thing that's cool to me. We've had enough guys get awarded and it doesn't mean much to me. But it does mean something in their history looking back at their experience."
Azubuike edged out his teammate and fellow-first-team-All-Big-12 pick Devon Dotson for the Big 12 honor. And Sunday night, Dotson sent out a tweet celebrating Azubuike's accomplishment.
"That's my teammate," Dotson said. "At the end of the day, if he got it or I got it, we're all happy for each other."
On Monday, Dotson got his chance to shine, when Bleacher Report came out with the first of several forthcoming national All-American teams and put Dotson on the first team and Azubuike on the second team.
"Perhaps you're of the belief that Udoka Azubuike is actually Kansas' bigger star," Bleacher Report's Kerry Miller wrote. "It's impossible to imagine the Jayhawks being anywhere near this good if either of those studs wasn't on the roster. But forced to pick one MVP from this national championship favorite, give us the one who steers the ship, shows up on a nightly basis and rarely leaves the court."
Self agreed that Dotson and Azubuike both are deserving of whatever honors they get.
"I wish there could've been co-(players of the year)," he said. "But the fact that you have both of those guys being recognized like that, I think it's great."
While both players will continue to be celebrated for their achievements in the weeks ahead, Dotson said none of it mattered to either of them right now. Someday it might. And he has said that he looked forward to one day looking back at all of the achievements throughout his career.
But right now the only thing he wants to do is look ahead.
"To get recognized is cool," Dotson said. "But in the locker room we have one common goal, a team goal, and that's winning a national championship."