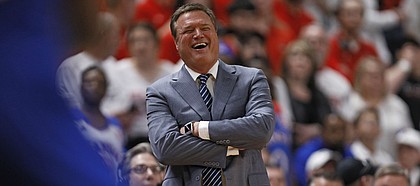 After a hard charge to claim the Big 12's regular-season crown, the Kansas Jayhawks enter the postseason in position to be picky about their approach.
As the No. 1 seed in this week's Big 12 Tournament in Kansas City, Mo., top-ranked Kansas will play at 1:30 p.m. Thursday against the winner of the 8-9 game between Oklahoma State and Iowa State.
What they do before and after that, however, is still up in the air.
"It's not a win-at-all-costs tournament," Kansas coach Bill Self said Saturday after the Jayhawks' 66-62 win at Texas Tech. "Even though if you play you've got to win, but I'm not going to go into it thinking that we've got to grind to win this one. Let's play and hopefully get some guys a chance to play."
Doing that, with reserves like Silvio De Sousa, Tristan Enaruna and David McCormack, potentially could give some key starters a chance to rest.
KU's three-headed monster of Udoka Azubuike (ankle), Devon Dotson (hip and ankle) and Marcus Garrett (foot) all have been playing through minor injuries during the past couple of weeks. And while each has been able to push past the pain and discomfort of their ailments, Self said Saturday that he would love to give them as much time as possible to heal up heading into the NCAA Tournament, which likely will open March 20 in Omaha, Neb.
"If we played each one of those guys 30 minutes, it would be like us not even playing them because they're used to playing 35-37," Self said of Azubuike, Dotson and Garrett. "So it would be nice to be able to do that."
Of the three, Garrett's injury appears to be the most bothersome.
Azubuike has played well in two games since injuring his ankle — including a dominant career-high 31 points and 14 rebounds on senior night against TCU — and Dotson also appeared to be back to full speed on both ends of the floor during KU's sprint to the Big 12 title.
Garrett, however, continues to show some signs of his injured foot bothering him. Pain in his arch is how Self previously described it. But despite the occasional limping and wincing during timeouts and dead balls, Garrett has not let the injury impact him during live action.
Beyond that, Self said Saturday that the injury is not something that Garrett can make worse by playing on it. It's simply a matter of managing and fighting through the pain.
"Basically," Self said. "But what helps is time off. With Marcus, hopefully he can practice by Tuesday at least a little bit. But if he can't, we'll sit him. We'll sit him and save him for the tournament. But he's not going to want to do that."
Game flow and the play and production of the players behind those three will go a long way toward determining how much rest KU's top trio can get this week. But Self said Saturday that he would do everything he could to rest them before the Big 12 tourney gets going and that he would shut any of them down altogether if the nagging injuries required it.
"I may give them Sunday and Monday off this week and practice Tuesday, Wednesday light," Self said Saturday. "But I don't know how we're going to approach it. I don't have a game plan yet."
What he does know is that when the Jayhawks step onto the Sprint Center court, regardless of who's playing or how many minutes, the objective will be the same as it always is.
"We'll definitely try to win Thursday," Self said. "And then we'll play and see Friday. If anybody gets nicked up, I wouldn't think I'd push that at all."
Added freshman guard Christian Braun, who also could see an increase in minutes even though he has been playing in the 20s in recent weeks: "You're not going to go into any game thinking it's OK to lose."
That mindset, along with the competitive nature of each of the Jayhawks, helped Kansas roll through the regular season with a 28-3 overall record and a 17-1 mark in Big 12 play. That's the most Big 12 wins by a team in the history of the conference, and the Jayhawks' drive and determination helped them rip off 16 consecutive victories after falling to Baylor at home on Jan. 11.
Because of their desire to keep a good thing going, don't expect the Jayhawks to change their approach in the days and weeks ahead.
"It was just do what we do," Dotson said after Saturday's win. "Like Coach said before the game, just do what we do. No matter the standings, at the end of the day we're playing basketball and we're going to try to win every game.
"It's win or go home from here on out. I know all of us are locked in in that locker room, no distractions, and we're looking to do something special coming up."