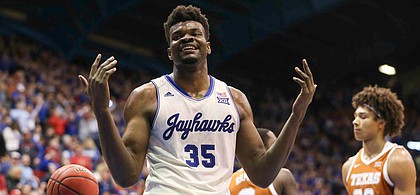 The Kansas men's basketball team cleaned up on Sunday, earning several all-conference honors from the league's coaches including player of the year and defensive player of the year.
Senior center Udoka Azubuike, who led the Big 12 with 15 double-doubles was named the Big 12 Player of the Year after averaging 13.7 points and 10.5 rebounds in 31 games.
Azubuike's honor marks the 16th time a Jayhawk has been named conference player of the year, including the ninth time in the Big 12 era.
The 7-foot senior joins Dave Robisch (1970, 1971), Bud Stallworth (1972), Danny Manning (1986, 1987, 1988) and Jacque Vaughn (1996) from the Big Eight era and Raef LaFrentz (1997), Drew Gooden (2002), Nick Collison (2003), Wayne Simien (2005), Marcus Morris (2011), Thomas Robinson (2012), Frank Mason III (2017) and Devonte' Graham (2018) from the Big 12 era.
"The way Dok performed down the stretch put him in a position to win the award," KU coach Bill Self said in a release Sunday. "I can't express enough how proud we are of him and the progress that he has made. For somebody that has gone through as much adversity as him – health-wise – since he's been here, to see it all be worth it, to fight through it, I think speaks volumes to his work ethic and character."
Said "First of all, I want to thank God for making this possible," Azubuike said in a statement Sunday afternoon. "I also want to thank all the coaches for believing in me, coach Self and coach Rob (Norm Roberts), (and) all my teammates. They played a huge part in helping me win this."
Junior guard Marcus Garrett, who, at one point or another, guarded all five positions for the Jayhawks while finishing second on the team in steals, with 56, earned Big 12 Defensive Player of the Year honors.
Garrett's honor marks the seventh time a Jayhawk has been named Big 12 Defensive Player of the Year.
He joins Mario Chalmers (co-2007), Cole Aldrich (co-2009, 2010), Jeff Withey (2012, 2013) and Joel Embiid (2014) in having that distinction.
"This league plays great defense," Self noted. "But Marcus was the premier defender in the conference and I am very happy for him getting Defensive Player of the Year. Hopefully this will propel him into some national defensive awards. The reason Dok was the most outstanding player and the reason Marcus won defensive player was because they are both terrific defenders."
Both players also were named to the Big 12's all-defensive team, with Garrett being a unanimous selection. Azubuike and Garrett are the sixth set of KU teammates to land on the Big 12's all-defensive squad, the most recent being Mason and Graham in 2016.
Coaches were not allowed to vote for their own players.
Azubuike often was at his best in the biggest moments.
His 23-point, 19-rebound game at No. 1 Baylor in February helped onpave the way for KU to hoist the Big 12 trophy a few games later. And he followed that effort up with 19 points and 16 rebounds two nights later, before closing out his Allen Fieldhouse career with a career-high 31 points and 14 rebounds in a senior night win over TCU.
"He's a monster," Self said of Azubuike after Saturday's win at Texas Tech. "He's a guy that I'm sure somebody else in America has one (like him). But there's not many, if any."
Azubuike and point guard Devon Dotson both were unanimous picks for the all-Big 12 first team, while Garrett was a third-team selection.
Sophomore guard Ochai Agbaji earned an honorable mention nod from the league's coaches, and freshman guard Christian Braun was named to the Big 12's all-freshman team.
In his second season as KU's floor general, Dotson led the Big 12 in scoring (18.1 points per game) and led the Jayhawks in minutes played. His tenacity on both ends of the floor often set the tone for the Jayhawks to harass and terrify their opponents during a 17-1 run through the conference schedule.
Self said recently that he knew Dotson would be even better than he was as a freshman a season ago. But he did not expect the Charlotte, N.C., native to be such a consistently high scorer.
Dotson said the lessons he learned and work he put in during the 12 months leading up to this season played a big part in his success.
"Just experience," he said. "And learning from previous games. Just executing and staying composed out there. It's big when we have experience and guys that we can rely on. Every game we try to pick apart and learn something from the previous game. And I feel like that's what we've been doing this year."
Added Self: "These individual accomplishments are usually achieved by the team's success. I know our guys all realize that. This is a credit to the entire team and not just individuals."
2019-20 Big 12 Postseason Awards
Player of the Year – Udoka Azubuike, Kansas (Sr., C)
Defensive Player of the Year – Marcus Garrett, Kansas (Jr., G)
Newcomer of the Year – Davion Mitchell, Baylor (So., G)
Freshman of the Year – Jahmi'us Ramsey, Texas Tech (G)
Sixth Man Award – Devonte Bandoo, Baylor (Sr., G)
Most Improved Player – Freddie Gillespie, Baylor (Sr., F)
Coach of the Year – Scott Drew, Baylor
All-Big 12 First Team
Jared Butler, Baylor (So., G)*
Udoka Azubuike, Kansas (Sr., C)*
Devon Dotson, Kansas (So., G)*
Kristian Doolittle, Oklahoma (Sr., F)
Desmond Bane,TCU (Sr., G)
All-Big 12 Second Team
MaCio Teague, Baylor (Jr., G)
Freddie Gillespie, Baylor (Sr., F)
Tyrese Haliburton, Iowa State (So., G)
Jahmi'us Ramsey, Texas Tech (Fr., G)
Oscar Tshiebwe, West Virginia (Fr., F)
All-Big 12 Third Team
Davion Mitchell, Baylor (So., G)
Mark Vital, Baylor (Jr., G/F)
Marcus Garrett, Kansas (Jr., G)
Brady Manek, Oklahoma (Jr., F)
Matt Coleman III, Texas (Jr., G)
All-Big 12 Honorable Mention (Listed alphabetically by school):
Rasir Bolton (Iowa State), Ochai Agbaji (Kansas), Xavier Sneed (Kansas State), Austin Reaves (Oklahoma), Isaac Likekele (Oklahoma State), Cameron McGriff (Oklahoma State), Andrew Jones (Texas), Courtney Ramey (Texas), Jericho Sims (Texas), Davide Moretti (Texas Tech), Derek Culver (West Virginia)
Big 12 All-Defensive Team
Freddie Gillespie, Baylor (Sr., F)
Davion Mitchell, Baylor (So., G)
Mark Vital, Baylor (Jr., G/F)*
Udoka Azubuike, Kansas (Sr., C)
Marcus Garrett, Kansas (Jr., G)*
Big 12 All-Newcomer Team
Davion Mitchell, Baylor (So., G)*
MaCio Teague, Baylor (Jr., G)*
Austin Reaves, Oklahoma (Jr., G)
Jahmi'us Ramsey, Texas Tech (Fr., G)
Oscar Tshiebwe, West Virginia (Fr., F)
Big 12 All-Freshman Team
Christian Braun, Kansas (G)
Jahmi'us Ramsey, Texas Tech (G)*
Terrence Shannon Jr., Texas Tech (G)
Miles McBride, West Virginia (F)
Oscar Tshiebwe, West Virginia (F)*
* designates unanimous selection