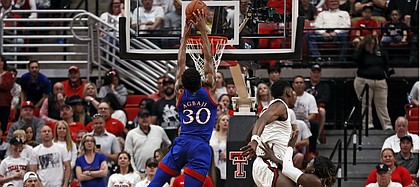 Before the first media timeout of the second half, No. 1 Kansas became the outright Big 12 champion. The rest of it was just gravy.
With Baylor suffering a 76-64 road loss to West Virginia, the Jayhawks officially became sole league champions with 16 minutes left in their game against Texas Tech. Kansas (28-3) then finished things off with a 66-62 victory over Texas Tech Saturday afternoon at the United Supermarkets Arena to put a bow on a dominant run through the league slate.
After having its streak of regular-season titles end last season, Kansas came back and won the Big 12 going away. The Jayhawks finished with a 17-1 clip through the league slate, with their lone loss coming at the hands of Baylor on Jan. 11. The Bears ended up going 15-3 in Big 12 action after dropping three of their final five games of the regular season.
The 17-1 record in Big 12 play gives the Jayhawks their most victories ever in a conference regular season. It surpasses the previous mark of 16, which was done in 2002, 2012 and 2017. Kansas will be the No. 1 seed for the Big 12 Championship for the 16th time in the 24-year history of the conference.
In addition, Kansas finished off a 9-0 run in road games during Big 12 play. The only other time KU went undefeated on the road in conference action was in 2002, when the Jayhawks went 8-0 away from home.
But it wasn't always a given that the Jayhawks would finish the regular season off with a 16-game win streak. It was a tie game, 57-57, with two minutes remaining. As has been the case most of the year, though, Kansas made enough plays down the stretch to hang on.
Related document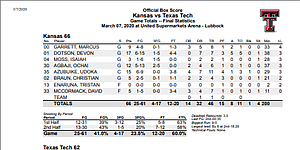 Box score: Kansas 66, Texas Tech 62 ( .PDF )
Senior center Udoka Azubuike flushed a putback on the out-of-timeout possession by Kansas. Texas Tech then turned it over, and freshman guard Christian Braun got a layup on the other end to give the visitors some breathing room.
With 36.3 seconds remaining in the contest, junior Marcus Garett came through with a layup in traffic on a strong right-handed drive. It put the Jayhawks back up by 4, and they relied on their elite defense to seal the deal.
KU had three players finish in double figures in the win. Sophomore point guard Devon Dotson paced the team with 17 points on 6-of-15 shooting to go along with seven rebounds and five assists. Azubuike finished with 15 points and 11 rebounds, while sophomore Ochai Agbaji added 12 points.
Texas Tech ends the regular season with an 18-13 overall record, including 9-9 in Big 12 play.