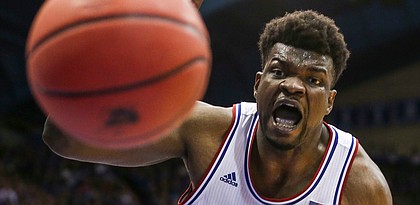 Kansas coach Bill Self's first inkling that Wednesday might be a big night for senior center Udoka Azubuike came during shoot-around.
It was there, earlier in the day, that Self got his first look at the injured right ankle that threatened to keep Azubuike out of the lineup on senior night.
"I said, 'Dok, just get loose. Don't make it sore,'" recalled Self after watching the KU big man drop a career-high 31 points and 14 rebounds in a 75-66 win over TCU at Allen Fieldhouse. "And he said, 'No, I'm practicing.' So I knew that he felt pretty good. He had a little adrenaline today."
Azubuike, who picked up his 14th double-double of the season in 35 minutes while showing no ill signs of the ankle injury he suffered four days earlier, said the theme of the week was for him to take it easy.
Photo Gallery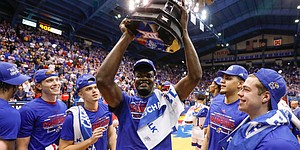 Kansas basketball v. TCU (Senior Night)
View a gallery of images from Wednesday night's game between the Jayhawks and Horned Frogs at Allen Fieldhouse.
"(Tuesday) was the only day I practiced," Azubuike said after Wednesday's win, which clinched the Jayhawks at least a share of the Big 12 title. "Our trainer, Ched (Bill Cowgill), said I need to take it easy. And I wasn't really practicing that hard, so I didn't really know how I was going to be today. And coach (Self) was like, 'Yeah, you've got to take it easy.'"
You'd be hard pressed to find anyone in the TCU locker room who thought Azubuike did that.
"When I came here, I thought he was a one-year guy and four years later, he's still here," TCU coach Jamie Dixon said after the KU victory. "He may be coming back next year. I never thought he would be here four years, but congratulations to him. He (was) a little banged up this week, but he sure didn't look like it."
In addition to scoring KU's first 10 points of the game on point-blank buckets at the rim, Azubuike got to the free-throw line a career-high 13 times (he hit five of them) while also grabbing 14 rebounds, eight offensive, and blocking five shots.
The early onslaught set the tone for the night, and KU point guard Devon Dotson said getting Azubuike going early was the focal point all week.
Related document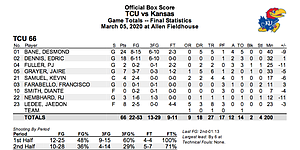 Box score: No. 1 KU 75, TCU 66 ( .PDF )
"We knew the dominant game he had against them last time," recalled Dotson of Azubuike's 20-point, 15-rebound, five-block game against TCU in Fort Worth, Texas, in early February. "They really didn't have an answer for him. So that was the game plan — just feed him. We knew something good would come out of it. He was great tonight, and I'm just happy we got the win."
In two games against the Horned Frogs this year, Azubuike combined to scored 51 points on 23 of 28 shooting from the floor. He also added a total of 29 rebounds and 10 blocks.
Added Self of his senior center's start: "That was without question the most aggressive I can remember him to start a game. I thought he was great."
The fact that Azubuike's strong showing came on a night when no one, including Azubuike, knew what kind of workload he would be able to handle merely made things sweeter.
"I knew (Tuesday) he'd probably play," Self said after the win. "But on Monday it was 50-50. Even Bill Cowgill said, 'I think he wants to try, and I think he can. He's stable, but it's really swollen.'"
While Azubuike felt good enough to push himself at shoot-around, he was not fully certain of how hard he could go until just before game time.
"When I started running and going back and forth I was just in game mode and I was not feeling much pain," he said.
With the win in hand and the Big 12 trophy, hats and T-shirts in their locker room, Self said after the game that he already had considered not playing Azubuike on Saturday at Texas Tech in order to give the 7-foot senior a little more time to fully heal.
The same goes for junior guard Marcus Garrett, who has been battling a foot injury.
But based on both the way they played and their feedback after Wednesday's win, Self was not as sure that would be the plan this weekend.
"(I've) thought about not playing either one of them (on Saturday)," Self said Wednesday night. "But the way that Dok looked tonight, and Marc told me he felt good. So if their health says they feel good then we'll positively play them. But if they take a step backwards then there would be a good chance we wouldn't. But they seemed to be doing fine after the game."