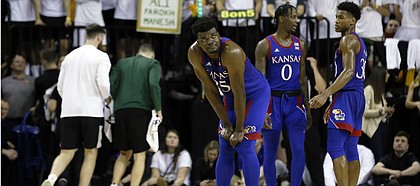 Out of the walking boot and back on the practice floor in limited capacity Tuesday, Kansas senior Udoka Azubuike has done everything he can to position himself to play in Wednesday's 7 p.m. senior night game against TCU at Allen Fieldhouse.
Azubuike was hobbled by a right ankle injury he suffered during last weekend's win at Kansas State. He said Tuesday that he had received around-the-clock attention on his injured ankle throughout the week.
"It's one thing to want to play," Kansas coach Bill Self said Tuesday. "It's another thing to want to play on senior night. So I know he'll do everything he can to get out there."
Indeed, Azubuike said he's "been continuously getting rehab" in hopes of playing against the Horned Frogs. And although a win would give No. 1 Kansas a share of the Big 12 title, he's excited about Wednesday's game for more sentimental reasons.
"It's my last home game at the fieldhouse," Azubuike said. "I really want to play."
Azubuike has had to miss 19 home games during his four-year, injury-plagued career — he missed nine as a freshman and 10 more as a junior with similar wrist injuries on opposite arms — and he's not interested in missing his last opportunity to run through the Allen Fieldhouse tunnel and hear his name called.
"I've been rehabbing a lot," he said. "It's getting better. Hopefully I'm going to play."
Neither Self nor Azubuike was ready to say definitively that the KU center would be on the floor on Wednesday night. But both pointed to one incident from Azubuike's past as a reason for optimism — his recovery from a knee injury he suffered during his sophomore season that forced him to miss the entire Big 12 tournament. Azubuike returned to the lineup in time for the 2018 NCAA Tournament and KU's run to the Final Four.
"The one thing that I kind of take confidence in (is) he was unbelievably disciplined and did everything he possibly could to come back (then)," Self said. "If he hadn't come back, we wouldn't have made it out of the first weekend."
On Tuesday, while talking about how he's matured during his time at KU, the 20-year-old Azubuike said overcoming injuries had played a big part in that.
"(After the first injury), I thought that was probably like the end of everything, and I had so many negative (thoughts) in my head," Azubuike said. "But as I grew, I realized that everything happens for a reason and you just have to take the good and the bad and learn from it and keep moving."
Even if he doesn't play against TCU in KU's home finale, Azubuike will give a senior speech when the game is over. Self joked on Tuesday that there would be a 20-minute time limit for the soft-spoken center's remarks. But he said he does hope Azubuike takes the opportunity to express himself.
"I think he'll be excited to do it," Self said. "And I think he'll do a good job."
Azubuike wasn't sure about the details of his speech — "I'm not really big (into) talking to a lot of people," he said — but he did appear to have the general theme in mind:
"It's been fast," he said. "It's been an up-and-down journey, between the good times and bad times and leaving it now, it's going to feel weird. Overall, it's probably the best decision I've made, to come to Kansas. I've enjoyed every moment of it."