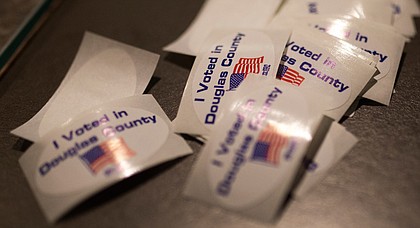 There's a new date to circle on the college athletics calendar for the 2020-21 academic year — Nov. 3, 2020.
On Friday afternoon, the NCAA released a statement encouraging its member schools to designate Election Day in November as "a day off from athletics activity so athletes can vote and participate in their ultimate responsibility as citizens."
By Friday evening, KU officials had committed to the plan.
"At Kansas Athletics, we want to provide opportunities for our student-athletes to use their platform to inspire change," KU Athletic Director Jeff Long said in a statement sent to the Journal-World. "One of those ways will be by giving our student-athletes the day off from all athletic-related activities on November 3rd to provide each of them the opportunity to make their voices heard locally and nationally by casting their votes in the upcoming election."
The move applies to all sports and will allow student-athletes the opportunity to vote more easily in the presidential and other national and local elections.
The NCAA's stance comes in direct response to the recent protests against police brutality and social injustices throughout the country in the wake of the death of George Floyd in Minneapolis.
According to a statement released Friday on behalf of NCAA president Mark Emmert and the NCAA's Board of Governors, "(we) recognize the important role social engagement has on driving positive societal change. The recent demonstrations following the tragic killing of George Floyd showed the world the power of protest and student-athletes across the country were at the center of that movement."
The statement also expressed support for all NCAA student-athletes who desire to participate as social activists and also encouraged the NCAA's member schools "to assist students in registering to vote in the upcoming national election."
Long's statement also said KU would continue to provide voter registration and education to KU's current and incoming student-athletes.
"We commend NCAA student-athletes who recognized the need for change and took action through safe and peaceful protest," the NCAA's Friday statement continued. "We encourage students to continue to make their voices heard on these important issues, engage in community activism and exercise their Constitutional rights."
Several coaches, athletes and athletic programs, both at Kansas and across the country, have posted social media videos and statements expressing their hope for change and support of the Black Lives Matter movement.
KU's men's basketball program recently released a video, narrated by former KU All-American Wayne Simien Jr., in which every member of the 2020-21 team and several coaches and staff members uttered the phrase, "Black Lives Matter."
"Our team is much more than just basketball players," KU coach Bill Self said at the end of the video. "And this issue is far bigger than basketball."