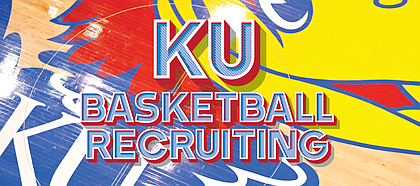 Kansas basketball coach Bill Self is not too worried about what the COVID-19 pandemic has done to KU's recruiting efforts during the last couple of months.
The way Self sees it, he and his coaching staff are not the only ones dealing with travel restrictions, a prolonged dead period and the elimination of the summer AAU circuit.
"I think it's going OK," Self said during a recent video interview with Midco Sports Network. "As long as everybody's playing under the same rules and umbrella, I think they'll still be about where they would've been if we hadn't had this pandemic."
For Kansas and other blue blood programs like it, that means talking with top-20 prospects on a regular basis and scouting the best talent in the country to see how each individual player might fit into a particular system.

Despite not being able to go watch prospects play or bring them to campus for visits, Self and the Jayhawks still were able to land a commitment from top-30 forward Zach Clemence.
While stuck in their homes and offices, Self said KU's coaches were able to considerably narrow down their wish list in the 2021 and 2022 recruiting classes.
Self added that the KU staff was currently in communication with 15-20 prospects "on a regular basis," and said that catching up with several potential future Jayhawks was a little easier than normal because so many things had been shut down.
"I don't think it's been that hard to be in contact with them," he said. "The lack of travel, obviously, has slowed down the process as far as taking visits and making decisions for the majority of them, but it hasn't slowed down the process as far as communicating.
"Even though they can't visit now, they want as much information as they can (get) while they don't have much going on."
Because of that, video productions, virtual visits and regular texts, phone calls and Zoom chats have become the norm in the college recruiting world.
Although relying on those tactics took some getting used to, Self said he did not think the odd spring hurt KU's chances with any of the prospects they're targeting.
"If the rules allowed you to be out every day, we'd get the same kids (as) if the rules said you can never go out," Self said. "Because everything's still relative."