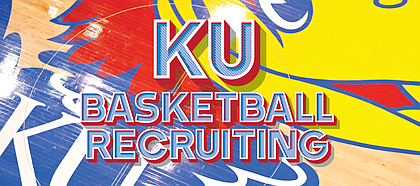 The Kansas men's basketball program picked up another commitment in the 2021 recruiting class on Friday night, when four-star forward KJ Adams picked the Jayhawks.
A 6-foot-6, 220-pound power forward from Westlake High in Austin, Texas, Adams picked Kansas from a final 10 that included Arkansas, Baylor, Georgetown, Iona, Iowa, KU, Oklahoma, Texas, Texas Tech and Central Florida.
He announced his decision Friday night on KVUE-TV in Austin.
"Just the foundation they have there, the history, coach Bill Self has made a big contribution to that," Adams said after picking Kansas. "I know I'll be OK and they'll push me to the limit (and) where I want to go."
Adams also posted a three-minute video to his Instagram account that showed him stepping out of a black sports car while wearing a blue Kansas shirt as he revealed his decision.
Known for his toughness and work on the glass, Adams also has a strong, explosive frame and the ability to shoot the ball with consistency out to the 3-point line.
Ranked No. 83 overall in the class of 2021 rankings by Rivals.com, Adams compares favorably to a bigger Marcus Garrett or Travis Releford.
Although both of those guys played primarily on the perimeter, Adams appears to be more of a true forward but with guard skills.
"Physically, Adams looks like an elite tight end recruit and he does a great job of using his strength to his advantage," Rivals.com recruiting analyst Eric Bossi told JayhawkSlant.com. "If he can continue to expand his game to become a consistent inside-out threat then he could develop into a true instant impact type as a freshman. Either way, he's a team guy who holds a strong sense of what works for him and what doesn't and he doesn't go away from that during games."
In an interview with the Austin American Statesman in April, AAU coach Michael Robertson called Adams the most coachable player he has been around in his 13 years on the circuit.
"He's developed a mindset of doing whatever it takes to make him win," Robertson told the Austin American Statesman in April. "He'll watch twice as much film as he needs to. He'll take twice as many jump shots than he needs to."
Adams becomes the second commitment in KU's 2021 class, joining fellow-Texan and 6-10 forward Zach Clemence, who committed to Kansas in May.
With at least one spot remaining in the class — and more likely two — the Jayhawks figure to focus on finding a point guard and a true big man to fill out the class.
Omaha, Neb., point guard Hunter Sallis (No. 11 in the 2021 class per Rivals), Letohatchee, Ala., guard JD Davison (No. 15) and Wasatch Academy point guard Nolan Hickman (No. 75) are among KU's top targets at the lead guard position.