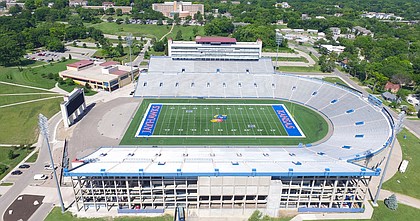 Kansas Athletics on Tuesday night released the results of its most recent round of COVID-19 testing, which yielded zero positives in 156 tests.
The testing, which included 136 athletes, took place last Saturday. KU did not provide a sport-by-sport breakdown of the athletes who were tested. But a large number of them were likely football players.
On July 22, one day before KU's football program resumed its voluntary offseason conditioning activities, Kansas Athletics announced four positive results from 90 football players who were tested on July 18.
In addition to the 136 tests administered to KU's fall sports student-athletes last weekend, Tuesday's news release indicated that 20 staff members, "with positions that require frequent student-athlete interaction" also were tested.
The news of zero positive tests on KU's campus comes three days after KU officials announced that the start of the 2020 college football season had been moved up to Aug. 29 after KU scheduled a replacement game with Southern Illinois following New Hampshire's cancellations of its fall sports seasons.
Opening the season a week earlier than previously scheduled also moved up the first day of the KU football program's preseason camp, which is now slated to begin Friday.
According to the release, last Saturday's most recent round of testing — at least the fifth conducted by KU since athletes returned to campus in mid-June — was part of "the ongoing maintenance procedures implemented by Kansas Team Health."
In addition to football, athletes from KU's volleyball, women's soccer and cross country programs have been working out on campus throughout the past several weeks in preparation for the start of their seasons.
The KU men's basketball team is slated to welcome back its players on Sunday, with team workouts scheduled to begin on Monday.