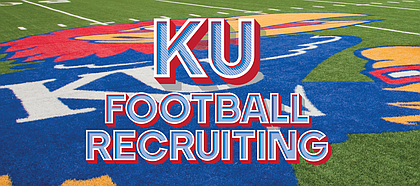 Two-star offensive lineman Larson Workman became the 14th prospect in the 2021 recruiting class to commit to the Kansas football program.
The senior-to-be from Ganado, Texas, announced his commitment Tuesday on Twitter, thanking his friends, family and coaches.
"We have worked so hard to accomplish our goals," Workman wrote.
Workman first picked up a scholarship offer from KU in early June. Offensive line coach Luke Meadows and safeties coach Jordan Peterson, who recruits in the area of Texas where Workman lives, were the lead recruiters for the lineman's services.
"I really liked Coach Meadows," Workman told Jon Kirby of JayhawkSlant.com. "He's great. I feel like I can be successful with his coaching."
But it was a weekend visit to Lawrence that sealed the deal for Workman. NCAA rules currently prohibit official and unofficial visits because of the COVID-19 pandemic, but Workman and his family made the trip to Lawrence last weekend to check out the environment and KU's campus on their own.
"The town of Lawrence had everything you need," Workman told Kirby. "I've never been to Lawrence, and neither has any of my family or anyone I know. We wanted to make a trip and make sure it's the right place for me."
After returning home, Workman called the KU coaching staff and a handful of players currently committed to KU and told them he wanted to be a Jayhawk.
An all-district selection at tackle as a junior, Workman stands 6-foot-5 and weighs 270 pounds, up 30 pounds from last November. He told Kirby he believes he could easily get to between 300 and 315 pounds in college.
Workman is the third offensive lineman in the 2021 class to commit to Kansas, joining three-star prospects Edgar Amaya and De'Kedrick Sterns.
KU's current class also includes standout prospects Devin Neal, a running back from Lawrence High, and Keon Coleman, a wide receiver from Opelousas, La., along with Brownsburg (Ind.) High quarterback Ben Easters; Little Rock, Ark., tight end Mason Brotherton; and Jaddai Henry, Majik Rector and Kelan Robinson, who are all wide receivers from Texas.
On defense, KU has secured commitments from linebacker Trey Staley, of Snellville, Ga.; Mena, Ark., defensive end Deldrick Withers; linebacker Andrew Simpson from St. John Bosco High in California; and defensive back Omar Burroughs, of Bradenton, Fla.
Rivals.com ranks the KU class 47th nationally and sixth in the Big 12. Les Miles' second KU class currently ranks ahead of Oklahoma State, Kansas State, Texas Tech and TCU, all of which have fewer commitments to date in the 2021 class.
KU's class includes a dozen three-star prospects and an average star ranking of 2.86.