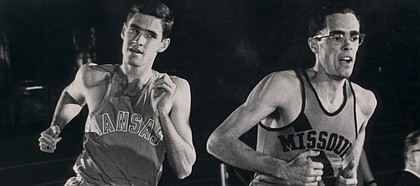 President Donald Trump is awarding the nation's highest civilian honor to Jim Ryun, a former Kansas congressman who was the first high school runner to clock a mile in under 4 minutes.
Trump is scheduled to honor the three-time Olympian and legendary University of Kansas distance runner with the Presidential Medal of Freedom at the White House on Friday.
The Wichita native entered the record books in 1964 at age 17 by becoming the first high school runner to break the 4-minute barrier in the mile with a time of 3 minutes, 59 seconds.
Ryun, now 73, went on to compete in three Olympic Games, winning a silver medal in 1968 in Mexico City. He later served 10 years in the U.S. House of Representatives.
The White House said Ryun is one of the most accomplished American runners.
The Presidential Medal of Freedom is awarded to individuals who have made meritorious contributions to the security or national interests of the United States, to world peace, or to cultural or other significant public or private endeavors, the White House said.
During his time at KU, Ryun broke several school and world records during what many considered to be the hey day of track and field at KU.
As a freshman, Ryun set his first world record in the 880-yard run with a time of 1:44.9, and in July of 1966, he ran the mile in 3:51.3, topping Michael Jazy's world record by 2.3 seconds.
He was named the youngest Sportsman of the Year by Sports illustrated in 1966 and won the Sullivan Award as the nation's top amateur athlete.
In 1967, Ryun outdid his own mile record by running 3:51.1. He also added world records in the 1,500 meters (3:33.1), indoor half-mile (1:48.3) and also anchored KU's sprint medley relay team to a world record of 3:15.2.
Ryun was inducted into the Kansas Sports Hall of Fame in 1977, the National Track and Field Hall of Fame in 1980 and the National Distance Running Hall of Fame in 2003.