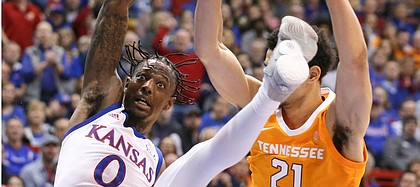 After bouncing off the floor at least 5 or 6 inches into the air following a hard foul on a transition dunk attempt during the first half of KU's 74-68 win over Tennessee on Saturday, junior guard Marcus Garrett hopped up and walked toward the free-throw line.
The play, which eventually was ruled a flagrant foul on Tennessee forward Olivier Nkamhoua, took place eerily close to the same spot where an all-out brawl between Kansas and Kansas State had started just four nights earlier.
But Garrett said there was absolutely no thought of jumping up and looking for trouble following the latest physical play near Allen Fieldhouse's south goal.
"Oh, it's basketball," Garrett said of Nkamhoua's foul after the victory. "It wasn't intentional at all."
As for the fall, which became the latest way that Garrett's body has taken a beating so far this season, the KU junior who again filled up the stat sheet with 8 points, seven rebounds, four steals, three assists and zero turnovers, said he felt no pain after the play or after the game.
"(I kind of hit) my arm," he said. "Once I was in the air and knew I was about to fall, I just tried to brace for it."
Photo Gallery
Kansas basketball v. Tennessee
View a gallery of photos from Saturday's game between the Jayhawks and Volunteers at Allen Fieldhouse.
Peyton's place
Former Indianapolis Colts and Denver Broncos quarterback Peyton Manning, a proud Tennessee alum, was in Allen Fieldhouse on Saturday to take in the game between his Volunteers and the Jayhawks.
Sporting a bright orange Tennessee hat and a classic orange button-up shirt, Manning mingled with fans and watched pregame warmups from the Tennessee bench and sat in the first row for the game.
Earlier in the day, he met with the KU team and took a stroll through Bill Self's office to chat with the Hall of Fame basketball coach.
Manning, who retired from football in 2016, told Big 12 Now before the game that Saturday was his first trip to Allen Fieldhouse.
"How could you not be a fan, just from his personality," Self said of his encounter with the two-time Super Bowl champion quarterback. "He's a guy that can make fun of himself and still yet he's still the coolest dude around. I've always found that (to be) such an admirable trait. It was a great thrill for me to meet Peyton."
Manning, being a Tennessee fan, did not get a chance to talk with the Kansas team, but he did share that being in attendance on Saturday was about more than just rooting on his alma mater.
"It's a real bucket-list trip," Manning told ESPN's Holly Rowe during the second half. "I've been to (Duke's) Cameron (Indoor Stadium), but I've always wanted to come to the Phog and it's been a special trip. We got to visit with Coach Self, we got to see the Naismith founding rules and it's been a lot of fun."
Related document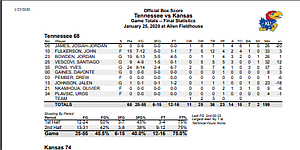 Box score: Kansas 74, Tennessee 68 ( .PDF )
Former player passes
The Illinois basketball family, which, in the past, included Self and current KU assistant coaches Jerrance Howard and Norm Roberts, lost a former player this week.
Former Illini forward Robert Archibald, 39, was found dead at his home in Illinois on Thursday, according to media reports.
Archibald is believed to be the only Scottish-born player to ever play in the NBA, and his loss was something that Self talked about with his current team this week.
"He mentioned him before practice and kind of got emotional," sophomore guard Ochai Agbaji said Saturday. "He kind of talked about the type of man he was and player he was."
Garrett said it was important to him and his teammates to make Saturday's outing one that could help take Self's mind off Archibald's passing.
"I think he coached him and Coach Howard played with him and we could see in (their) eyes how they felt," Garrett recalled. "Silvio (De Sousa) picked (Self) up and let him know we're here for him."
This and that...
Kansas now leads the series with Tennessee 4-1, including a 2-0 mark at Allen Fieldhouse... KU is now 5-2 in games played as part of the Big 12/SEC Challenge, which began in 2013... The Jayhawks are now 9-1 at home this season, including an 8-1 mark at Allen Fieldhouse... Saturday marked the 300th consecutive sellout crowd at Allen Fieldhouse and the Jayhawks are 285-15 during that streak... Udoka Azubuike, with four blocks, moved to the cusp of the Top 10 on KU's all-time blocks list. He currently sits in 11th place, with 139 for his career, moving past Paul Mokeski (136), Raef LaFrentz (138) and Greg Dreiling (138)... KU is now 13-0 this season — and 396-31 all-time under Self — when leading at halftime... KU's six turnovers were the fewest in a single game this season and the team's 33 free throw attempts (20-of-33) were a season-high.