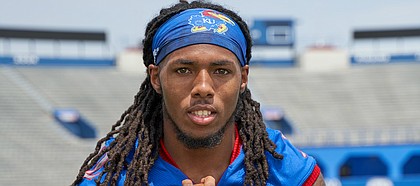 Kansas football coach Les Miles has suspended Corione Harris indefinitely following the sophomore's arrest in Howell County, Mo., this past weekend.
According to Missouri court records, Harris faces a pair of felony charges — one for delivery of more than 35 grams of marijuana or synthetic cannabinoid, and the other for unlawful use of a weapon.
He was arrested on Sunday and spent one day in jail before being released on $7,500 bond.
Miles issued the following statement regarding the 20-year-old defensive back from Louisiana: "We are aware of the charges involving Corione Harris, and have suspended him indefinitely from all team-related activities."
Attempts by the Journal-World to obtain further court documents Friday afternoon from the prosecutor's office were unsuccessful. The Kansas City Star reported an affidavit for Harris' arrest showed that Harris was pulled over on Sunday night after his vehicle cut off another vehicle while merging.
According to the arresting deputy's report, Harris' vehicle smelled of marijuana and Harris told the officer there was marijuana in his vehicle as well as a firearm.
During a search that followed, per the affidavit, the deputy found eight baggies containing marijuana, a "large amount of U.S. currency," a black digital scale and the firearm under the front passenger seat.
This past October, Harris was arrested in Missouri on suspicion of failure to appear, after receiving a speeding ticket in March.
Harris spent time as a starting cornerback for KU each of the past two seasons, after arriving in Lawrence as a touted four-star prospect in the class of 2018.
During his sophomore season in 2019, Harris started six games. He missed the final three games of the season due to injury. In nine appearances this past season, Harris made 15 total tackles and broke up two passes.